Matei, R. and Ginsborg, J. (2023) Why do music students attend counselling? A longitudinal study of reasons in one UK conservatoire. Journal of Research in Music Education. pp. 1-22. ISSN 0022-4294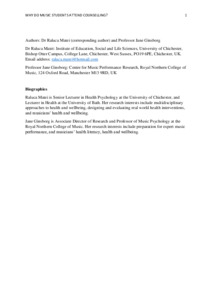 Preview
Text (© National Association for Music Education 2023. Open Access. This article is licensed under a Creative Commons Attribution 4.0 International (https://creativecommons.org/licenses/by/4.0))




Reasons for counselling music students (Matei & Ginsborg, 2023).pdf

- Accepted Version
Available under License Creative Commons Attribution 4.0.
Download (765kB) | Preview

Text (© National Association for Music Education 2023. Open Access. This article is licensed under a Creative Commons Attribution 4.0 International (https://creativecommons.org/licenses/by/4.0))




Why Do Music Students Attend Counseling_ A Longitudinal Study of Reasons in One UK Conservatoire.html

- Published Version
Available under License Creative Commons Attribution 4.0.
Download (117kB)
Abstract
Music students in tertiary education struggle with a range of health-related problems. We investigated students' self-referrals for counselling at a UK conservatoire in order to explore trends in students' attendance at counselling sessions over time, and identify their reasons for seeking and continuing to attend counselling. We conducted a secondary analysis of data collected from 645 students by two in-house counsellors at the conservatoire between 2000 and 2016. We obtained analogous data on all students registered during the same period for comparison, running chi-square and non-parametric tests of association between groups. A total of 645 students attended a mean of eight (Mdn=4) counselling sessions over the 16-year period: 63% were female, 79% were from the UK, and 72.5% were undergraduate students. The percentages of students attending counselling increased from two (1%) in 2000-2001 to 71 (13%) in 2015-2016. The presenting concerns of almost one in ten students who sought counselling were related to self-esteem, self-confidence, ego strength and coping ability. Their main reasons for continuing to attend counselling were also to do with self and identity, relationships, academic concerns, loss, abuse, and anxiety. Female students, postgraduate students, and those studying singing were most likely to attend counselling sessions.
Publication Type:
Articles
Additional Information:
CC BY 4.0, which permits sharing, adaptation, distribution and reproduction in any medium or format, as long as you give appropriate credit to the original author(s) and the source, provide a link to the Creative Commons licence, and indicate if changes were made.
Uncontrolled Keywords:
health promotion, conservatoire students, mental health, wellbeing, health services
Subjects:
B Philosophy. Psychology. Religion > BF Psychology
H Social Sciences > H Social Sciences (General)
L Education > LB Theory and practice of education > LB2300 Higher Education
L Education > LF Individual institutions (Europe)
M Music and Books on Music > M Music
R Medicine > RA Public aspects of medicine > RA0421 Public health. Hygiene. Preventive Medicine
Divisions:
Academic Areas > Institute of Education, Social and Life Sciences > Psychology
Related URLs:
Depositing User:

Raluca Matei

Date Deposited:
27 Feb 2023 12:49
Last Modified:
16 May 2023 15:11
URI:
https://eprints.chi.ac.uk/id/eprint/6730
Actions (login required)