Turner, D. (2023) 'You Took me Back to the sea:' Using Narrative to Explore and Inform the Practice of Social Work with Dying People. Illness, Crisis & Loss, 31 (3). pp. 576-591. ISSN 1552-6968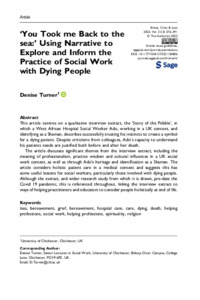 Preview
Text (Turner, D. (2022) 'You Took me Back to the sea:' Using Narrative to Explore and Inform the Practice of Social Work with Dying People. Illness, Crisis & Loss. pp. 576-591. © The Author 2022. Reprinted by permission of SAGE Publications.)




10.1177_10541373221105806.pdf

- Published Version
Available under License Creative Commons Attribution Non-commercial 4.0.
Download (318kB) | Preview

Archive (Turner, D. (2022) 'You Took me Back to the sea:' Using Narrative to Explore and Inform the Practice of Social Work with Dying People. Illness, Crisis & Loss. pp. 576-591. © The Author 2022. Reprinted by permission of SAGE Publications.)




non-pdf-files.zip

- Published Version
Available under License Creative Commons Attribution Non-commercial 4.0.
Download (2kB)
Abstract
This article centres on a qualitative interview extract, the 'Story of the Pebble', in which a West African Hospital Social Worker Ado, working in a UK context, and identifying as a Shaman, describes successfully trusting his instincts to create a symbol for a dying patient. Despite criticisms from colleagues, Ado's capacity to understand his patients needs are justified both before and after her death. The article discusses significant themes from the interview extract, including the meaning of professionalism, practice wisdom and cultural influences in a UK social work context, as well as through Ado's heritage and identification as a Shaman. The article considers holistic patient care in a medical context and suggests this has some useful lessons for social workers, particularly those involved with dying people. Although the extract, and wider research study from which it is drawn, pre-date the Covid 19 pandemic, this is referenced throughout, linking the interview extract to ways of helping practitioners and educators to consider people holistically at end of life.
Publication Type:
Articles
Uncontrolled Keywords:
spirituality, religion, death, loss, helping professions, social work, grief, dying, hospital care, bereavement, care
Subjects:
B Philosophy. Psychology. Religion > BL Religion
H Social Sciences > H Social Sciences (General)
H Social Sciences > HV Social pathology. Social and public welfare
R Medicine > RT Nursing
Divisions:
Academic Areas > Institute of Education, Social and Life Sciences > Social Work and Social Care
Related URLs:
SWORD Depositor:

Publications Router Jisc

Depositing User:

Publications Router Jisc

Date Deposited:
14 Jun 2023 10:47
Last Modified:
14 Jun 2023 10:47
URI:
https://eprints.chi.ac.uk/id/eprint/6895
Actions (login required)