Multisensory Music Performance with Cymatic Images
Ritchie, L. (2023) Multisensory Music Performance with Cymatic Images. Music & Science, 6. pp. 1-11. ISSN 2059-2043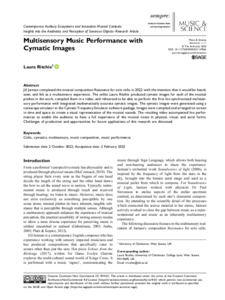 Preview
Text (Ritchie, Laura, Multisensory Music Performance with Cymatic Images, Music & Science. © The Author(s) 2023. Reprinted by permission of SAGE Publications.)




10.1177_20592043231159065.pdf

- Published Version
Available under License Creative Commons Attribution No Derivatives 4.0.
Download (2MB) | Preview

Archive (Ritchie, Laura, Multisensory Music Performance with Cymatic Images, Music & Science. © The Author(s) 2023. Reprinted by permission of SAGE Publications.)




non-pdf-files.zip

- Published Version
Restricted to Repository staff only
Available under License Creative Commons Attribution No Derivatives 4.0.
Download (2kB)
Abstract
Jill Jarman completed the musical composition Resonance for solo cello in 2022 with the intention that it would be heard, seen, and felt as a multisensory experience. The cellist Laura Ritchie produced cymatic images for each of the musical pitches in the work, compiled them in a video, and rehearsed to be able to perform the first live synchronized multisensory performance with integrated mathematically accurate cymatic images. The cymatic images were generated using a tonescope emulator in the Cymatic Frequency Emulator software package. Images were compiled and arranged on screen in time and space to create a visual representation of the musical sounds. The resulting video accompanied live performances to enable the audience to have a full experience of the musical notes in physical, visual, and aural forms. Challenges of production and opportunities for future applications of this research are discussed.
Actions (login required)