Thompson, B. (2019) Shifting Feminisms: Collaborative or Individualized Managers? An Exploratory Study in Three U.K. Universities. Gender in Management: An International Journal, 34 (4). pp. 287-305. ISSN 1754-2413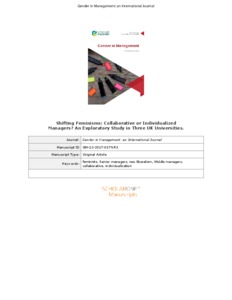 Preview
Text (The AAM is deposited under the Creative Commons Attribution Non-commercial International Licence 4.0 (CC BY-NC 4.0) any reuse is allowed in accordance with the terms outlined by the licence.)




Shifting Feminisims, Collaborative or Individualized managers. An Exploratory Study in Three U.K. Universities.PDF

- Accepted Version
Available under License Creative Commons Attribution Non-commercial.
Download (341kB) | Preview
Abstract
Purpose
This paper seeks to shed light on how a group of feminist managers/ leaders, in education and
social studies departments, a notably under- explored and under-theorised group, 'do power' in the
increasingly corporatized education marketplace.
Design/ methodology/ approach
The research draws on the narratives of a small group of feminist women who hold authority
positions at middle or senior levels. It interrogates data from ethnographic interviews and participant
observation carried out as part of an in-depth narrative inquiry (Andrews, et.al.2008) in three higher
education institutions in the United Kingdom
Findings
From a small sample such as this any findings are necessarily tentative. Nonetheless, findings
suggest that, whilst taking account of individual differences in styles, there has been a shift, over
time, in the ways that the management role is approached by these feminist women. Analysis of the
data also reveals that gendered expectations remain for those who carry the 'feminist' label and
asks whether these expectations are realistic.
Research limitations/ implications
Drawing on data from a small sample group raises questions about what can and cannot be
claimed. However, along with Maguire (2008), my purpose is not with generalisability, but seeks to
explore issues and open up further areas of study.
Originality/ value
Original empirical research which explores an under-researched group of women, namely feminist
managers and leaders in university education and social studies departments, as they negotiate the
challenges of working within the neo liberal academy and, to varying degrees, try to remain true to
their feminist values and beliefs.
Publication Type:
Articles
Additional Information:
To reuse the AAM for commercial purposes, permission should be sought by contacting permissions@emeraldinsight.com. Marcia Thompson, Barbara. (2019). Shifting feminisms: Collaborative or individualized managers? An exploratory study in three UK universities. Gender in Management: An International Journal. 10.1108/GM-12-2017-0179.
Uncontrolled Keywords:
Collaborative, feminism, feminist, individualism, leadership, management, neo- liberalism, new managerialism. Business, Management and Accounting (miscellaneous), Gender Studies
Subjects:
H Social Sciences > H Social Sciences (General)
H Social Sciences > HD Industries. Land use. Labor > HD28 Management. Industrial Management
H Social Sciences > HQ The family. Marriage. Women > HQ1101 Women. Feminism
L Education > LB Theory and practice of education > LB2300 Higher Education
Divisions:
Academic Areas > Institute of Education, Social and Life Sciences > Education and Teaching
Depositing User:

Angela Roberts

Date Deposited:
26 Apr 2019 11:05
Last Modified:
12 Sep 2019 08:40
URI:
https://eprints.chi.ac.uk/id/eprint/4632
Actions (login required)