Goosen, T. and Twitchen, A. (2023) Class matters - Children's perceptions of sports coaching. Children & Society. pp. 1-24. ISSN 1099-0860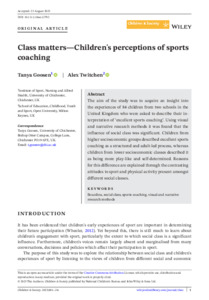 Preview
Text (This is the peer reviewed version of the following article: Goossen, T. & Twitchen, A., Class matters - Children's perceptions of sports coaching, which has been published in final form at https://doi.org/10.1111/chso.12792. This article may be used for n)




chso.12792.pdf

- Published Version
Available under License Creative Commons Attribution No Derivatives 4.0.
Download (4MB) | Preview

Archive (This is the peer reviewed version of the following article: Goossen, T. & Twitchen, A., Class matters - Children's perceptions of sports coaching, which has been published in final form at https://doi.org/10.1111/chso.12792.)




non-pdf-files.zip

- Other
Available under License Creative Commons Attribution No Derivatives 4.0.
Download (2kB)
Abstract
The aim of the study was to acquire an insight into the experiences of 84 children from two schools in the United Kingdom who were asked to describe their interpretation of 'excellent sports coaching'. Using visual and narrative research methods it was found that the influence of social class was significant. Children from higher socioeconomic groups described excellent sports coaching as a structured and adult‐led process, whereas children from lower socioeconomic classes described it as being more play‐like and self‐determined. Reasons for this difference are explained through the contrasting attitudes to sport and physical activity present amongst different social classes.
Actions (login required)