Maitland, J. (2020) Whole-school approaches to building resilience & promoting mental health: embracing complexity. BERA Bites, 6. p. 14.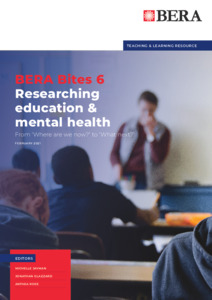 Preview
Text (Jayman, M., Glazzard, J., & Rose, A. (Eds.) (2021). Researching Education & Mental Health: From 'Where Are We Now?' to 'What Next?' (BERA Bites Issue 6). British Educational Research Association.)




Bites-issue-6-Researching-educationmental-health-where-now-what-next_Feb-2021.pdf

- Published Version
Available under License Creative Commons Attribution Non-commercial No Derivatives 4.0.
Download (8MB) | Preview
Abstract
In the context of increasing demand for specialist mental health (MH) services, emphasis has been placed on school-based early intervention to prevent or de-escalate later MH issues. The case for a whole-school approach (WSA) has been well made, both in research and government policy (Weare & Nind, 2011; PHE, 2015; DHSC & DfE, 2017).
WSAs integrate targeted support for those who need it within efforts to build resilience universally across the school system. This comprehensive approach acknowledges the context-specific nature of MH, and the many interrelated social, economic and physical risk and protective factors, both within and beyond the school gates.
Actions (login required)