Packer, B. and Keates, S. (2022) Automated Interpretation: The Other, Better, Wiser AI. In: University of Chichester Research Conference, 11-12 July 2022, Bishop Otter Campus, University of Chichester, Chichester..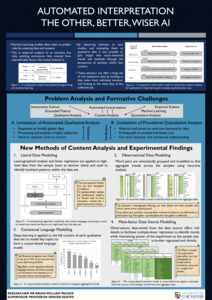 Preview
Image (Poster. Chichester Research Conference. (2022))




22_CHIPoster_Packer2.pdf

- Presentation
Available under License Creative Commons Attribution 4.0.
Download (251kB) | Preview
Abstract
Machine learning models often claim to predict rules by analysing large volumes of quantitative data as inputs for statistical regression. This is empirical analysis to an extreme which often risks omitting nuances and extraneous data created from hard to measure factors like human behaviours. This poster presents a peer-reviewed multi-modal method of validating large-volume lexical data using mixed qualitative analysis methods.
Actions (login required)