Phillips, P. (2018) And everyone is running for a reason…: performances of sports commentary, mass participation marathons and neoliberal ideology. In: Sport/Spectacle: Performing, Labouring, Circulating Bodies Across Sport, Theatre, Dance, and Live Art, 14-15 Sept 2018, Kings College London. (Unpublished)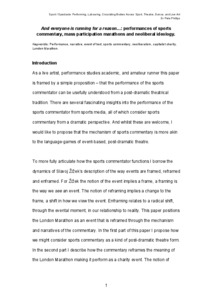 Preview
Text




And everyone is running for a reason 2018.pdf

- Accepted Version
Available under License Creative Commons Attribution.
Download (152kB) | Preview
Abstract
The paper considers sports commentary as a performance that reframes the meaning of sports events. Focussing on the BBC live commentary of fun-runners in the London Marathon, the paper explores how sports commentary articulates this spectacle of mass participation through the lens of capitalist charity, reframing fun running as complicit with neoliberal ideology. In contrast to Williams' assertion that TV sports maintain a strong sense of independence despite control and commodification by government or commerce (1989) and Kennedy's suggestion that the significance of sport is not tied to ideology (2001), the paper argues that sports commentary, however implicitly, asserts neoliberal authority through the use of specific performative strategies within televised broadcasts.
The paper examines how sports commentary changes the way an event is received and subsequently perceived. Through a consideration of the performative strategies of the sports commentator (Whannel, 1992) as an event of text (Turner, 2009), the paper articulates a gap between the event and how that event is reframed (Žižek, 2014) by the commentary. The position of the commentator enacts a degree of sovereignty (Agamben, 1998) over the event, allowing the commentary to reframe the meaning of mass participation in the marathon. Subsequently fun-runners are made to perform as neoliberal subjects, contextualised by capitalist charity (Livingstone, 2013), complicit with neoliberal ideology.
Using BBC broadcasts of the London Marathon the paper articulates how Booker's overcoming the monster narrative (2004) is used to guarantee the meaning of fun-runners. The commentary narratives reframe the fun-runner as part of a charity event, reinforcing neoliberal ideals of the individual, self-improvement and charity as a replacement for the state. As fun-runners in the marathon our 'active' participation is repositioned by the stories of the commentary as an act of interpassivity in that our collective action only serves to maintain the status quo.
Publication Type:
Conference or Workshop Items (Paper)
Uncontrolled Keywords:
Performance, sports commentary, live art, marathons, fun running, neoliberal ideology
Subjects:
G Geography. Anthropology. Recreation > GV Recreation Leisure > GV557 Sports
P Language and Literature > PN Literature (General) > PN1600 Drama > PN2000 Dramatic representation. The theater
P Language and Literature > PN Literature (General) > PN2041 Performance studies
Divisions:
Academic Areas > Institute of Arts and Humanities > Theatre
Event Title:
Sport/Spectacle: Performing, Labouring, Circulating Bodies Across Sport, Theatre, Dance, and Live Art
Event Location:
Kings College London
Event Dates:
14-15 Sept 2018
Depositing User:

Pete Phillips

Date Deposited:
08 Feb 2019 13:53
Last Modified:
08 Feb 2019 13:53
URI:
https://eprints.chi.ac.uk/id/eprint/4198
Actions (login required)