Benozzo, A., Carey, N., Cozza, M., Elmenhorst, C., Fairchild, N., Koro-Ljungberg, M. and Taylor, C.et al (2019) Disturbing the AcademicConferenceMachine: Post-Qualitative Re-turnings. Gender, Work and Organization, 26 (2). pp. 87-106. ISSN 1468-0432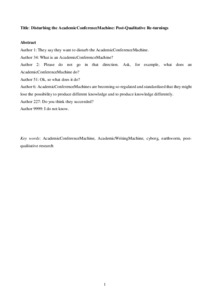 Preview
Text (This is the peer reviewed version of: Disturbing the AcademicConferenceMachine: Post-Qualitative Re-turnings. This article may be used for non-commercial purposes in accordance with Wiley Terms and Conditions for Self-Archiving.)




GWO accepted paper final.pdf

- Accepted Version
Available under License Creative Commons Attribution Non-commercial.
Download (759kB) | Preview
Abstract
Author 1: They say they want to disturb the AcademicConferenceMachine.
Author 34: What is an AcademicConferenceMachine?
Author 2: Please do not go in that direction. Ask, for example, what does an AcademicConferenceMachine do?
Author 51: Ok, so what does it do?
Author 6: AcademicConferenceMachines are becoming so regulated and standardized that they might lose the possibility to produce different knowledge and to produce knowledge differently.
Author 227: Do you think they succeeded?
Author 9999: I do not know.
Actions (login required)