Sharpe, B. T., Smith, M. S., Williams, S. C. R., Hampshire, A., Balaet, M., Trender, W., Hellyer, P., Talbot, J. and Smith, J.et al (2023) Cognition and lifeguard detection performance. Applied Cognitive Psychology. pp. 1-15. ISSN 1099-0720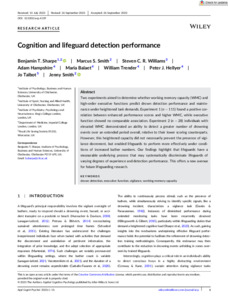 Preview
Text (This is the peer reviewed version of the article, which has been published in final form at https://doi.org/10.1002/acp.4139. © 2023 The Authors. Applied Cognitive Psychology published by John Wiley & Sons Ltd.)




Applied Cognitive Psychology - 2023 - Sharpe - Cognition and lifeguard detection performance.pdf

- Published Version
Available under License Creative Commons Attribution 4.0.
Download (5MB) | Preview
Abstract
Two experiments aimed to determine whether working memory capacity (WMC) and
high-order executive functions predict drown detection performance and maintenance
under heightened task demands. Experiment 1 (n = 111) found a positive correlation
between enhanced performance scores and higher WMC, while executive
function showed no comparable association. Experiment 2 (n = 28) individuals with
elevated WMC demonstrated an ability to detect a greater number of drowning
events over an extended period overall, relative to their lower scoring counterparts.
However, this heightened capacity did not necessarily prevent the presence of vigilance
decrement, but enabled lifeguards to perform more effectively under conditions
of increased bather numbers. Our findings highlight that lifeguards have a
measurable underlying process that may systematically discriminate lifeguards of
varying degrees of experience and detection performance. This offers a new avenue
for future lifeguarding research.
Actions (login required)