Crisp, C. J. (2009) The Classical Clarinet in Theory and Practice: Xavier Lefèvre's Methode of 1802. In: CUK Research Students Conference, 7 July 2009, Trinity Laban Conservatoire of Music and Dance (Laban Campus). (Unpublished)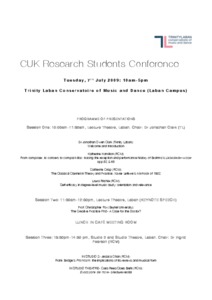 Preview
Text




CUK_Conference_Progamme_Final[1].pdf

- Other
Available under License Creative Commons Attribution.
Download (49kB) | Preview
Abstract
This lecture demonstration takes as its focus Lefèvre's solo writing styles for the classical clarinet.
The year 1802 saw the publication of Lefèvre's Méthode de Clarinette, designed and employed as the official tutor at the Paris Conservatoire. This presentation will discuss Lefèvre's career as a clarinet professor at the Conservatoire and his establishment (through the Méthode) of an effective pedagogical system for learning and improving one's playing. The classical clarinet as a developing instrument will also be considered.
Lefèvre's aims in writing the Méthode and its contents will be examined with particular reference to his progressive sonatas.
Lefèvre sought to create well rounded clarinettists who were not only technically assured, but also expressive and musically interpretative performers. His progressive sonatas 1-12 were designed to improve all of these fundamental elements of clarinet playing through gradual stages. The presentation will look particularly at the ways in which Lefèvre wrote for the solo clarinet taking as its focus Sonata number 5, movement 1.

In employing played examples, I will discuss questions such as:
How did Lefèvre write for the solo clarinet?
How effectively did Lefèvre employ solo writing styles, both to suit the instrument and developing player?
How does Lefèvre's solo writing in practice relate to his own theoretical advice contained within the Méthode?
The presentation will conclude with a consideration of the employment of the Méthode outside of the Conservatoire and its continued relevance after the time of Lefèvre.
Actions (login required)