The Spectator's Dancing Gaze in Moulin Rouge!
Parfitt, C. (2005) The Spectator's Dancing Gaze in Moulin Rouge! Research in Dance Education, 6 (1/2). pp. 97-110. ISSN 1464-7893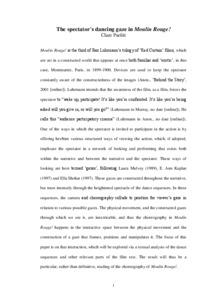 Preview
Text (This is an Accepted Manuscript of an article published by Taylor & Francis in Research in Dance Education on April 2005, available online: http://www.tandfonline.com/10.1080/14617890500373378)




Dancelines essay - Moulin Rouge - with alterations - post-print version.pdf

- Accepted Version
Available under License Creative Commons Attribution.
Download (307kB) | Preview
Abstract
This paper examines the ways in which the choreography of Moulin Rouge! offers a range of gazes to the audience through the perspectives of both the characters and the camera itself. Various gendered and imperial/colonial power relationships that occur within the narrative are heightened in the choreography by referring to discourses inscribed in past dance practices and film musicals. Choreography which can be read as referring to 'orientalized', gendered and imperial/colonial discourses, appears to stabilize or fix an unequal power relationship between the looker and the looked at by placing a distancing gaze between them. However, choreography read as referring to 'exoticized', gendered and imperial/colonial discourses emerges later to destabilize this relationship by acknowledging the capacity of the looked at to return the gaze. Further analysis reveals the extent to which orientalizing and neo-colonial gazes are initially masculinized in relation to a feminized dancing Other, but the exoticized return of the look destabilizes these identities by posing the possibility of a feminine gaze and a masculine dancing Other. The physical movement, and the gazes that frame it, are inextricably intertwined through these mutually defining power relationships. Therefore, by inviting the spectator to adopt various gazes during the dance sequences, he/she can enter this interactive space between the gaze and the danced action. This enables the spectator both to critique the various constructed gazes and to engage actively in the choreography.
Actions (login required)