Little, J. D. (2001) Celestial Cinema; or, From Celluloid to Silicon: eCinema, Cyberentertainment and the Napsterization of Hollywood. American Outlook, IV (4). pp. 28-33. ISSN 1099-8896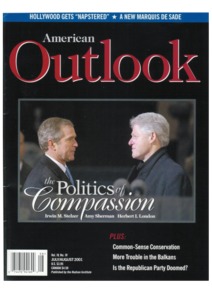 Preview
Text (Excerpt from American Outlook, Vol.IV, No.4: "Celestial Cinema" - courtesy the Sagamore Institute)




American Outlook - Hollywood Napstered (excerpt).pdf

- Published Version
Available under License Creative Commons Attribution.
Download (1MB) | Preview
Abstract
FEATURED COVER ARTICLE: "Hollywood Napstered".
A summary of the implications of digital distribution for the world-wide film, music and games industries. E-cinema and cyber-entertainment are hastening the Napsterization of Hollywood--and a thorough, radical transformation of our entertainment media.
"In business and the economy, Jonathan Little discovers that keeping pace with the rapid digitization of Hollywood and the resulting changes in entertainment media is not nearly as difficult as finding someone to pay for it."
[Full text and magazine online at the links below.]
Actions (login required)