Law, K. (2016) "Mostly we are White and Alone": Identity, Anxiety and the Past in Some White Zimbabwean Memoirs. Journal of Historical Sociology, 29 (3). pp. 297-318. ISSN 1467-6443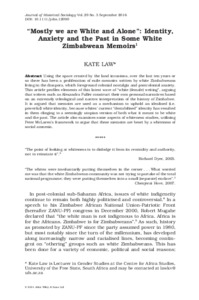 Preview
Text (Reproduced with the kind permission of the International Journal of African Historical Studies)




Law-2016-Journal_of_Historical_Sociology (1).pdf

- Published Version
Available under License Creative Commons Attribution.
Download (161kB) | Preview
Abstract
Using the space created by the land invasions, over the last ten years or
so there has been a proliferation of exile memoirs written by white Zimbabweans
living in the diaspora, which foreground colonial nostalgia and postcolonial anxiety.
This article profiles elements of this latest wave of "white (female) writing", arguing
that writers such as Alexandra Fuller construct their own personal narratives based
on an extremely teleological and narrow interpretation of the history of Zimbabwe.
It is argued that memoirs are used as a mechanism to uphold an idealised (i.e.
powerful) white identity, because whites' current "destabilised" identity has resulted
in them clinging to a seemingly utopian version of both what it meant to be white
and the past. The article also examines some aspects of whiteness studies, utilising
Peter McLaren's framework to argue that these memoirs are beset by a whiteness of
social amnesia.
Actions (login required)