Shelton, C. and Lansley, M. (2023) Where is technology in the 'golden thread' of teacher professional development? In: Towards a collaborative society through creative learning. IFIP World Conference on Computers in Education. Springer, Hiroshima, Japan, pp. 653-662. ISBN 9783031433924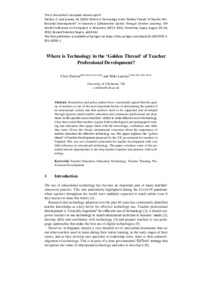 Preview
Text (This is the author's accepted manuscript of: Shelton, C. and Lansley, M. (2023) 'Where is Technology in the 'Golden Thread' of Teacher Professional Development?' The final publication is available at Springer via https://link.springer.com/book/10.1007/978)




TechnologyintheGoldenThreadAuthorVersion.pdf

- Accepted Version
Available under License Creative Commons Attribution Non-commercial No Derivatives 4.0.
Download (403kB) | Preview
Abstract
Researchers and policy makers have consistently agreed that the quality
of teachers is one of the most important factors in determining the quality of
an educational system and that teachers need to be supported and developed
through rigorous initial teacher education and continuous professional development.
In the specific case of teachers' ability to make effective use of technology,
it has been noted that teachers require both technological and pedagogical training
and education that equips them with the knowledge, confidence and skills
they need. Given this broad, international consensus about the importance of
teacher education for effective technology use, this paper explores the 'golden
thread' of teacher development proposed by the UK government for teachers in
England. This sets out a detailed curriculum for teacher development with very
little reference to educational technology. The paper considers some of the potential
missed opportunities to develop teacher expertise and practice with technology.
Actions (login required)