Is 'Virtual' the New 'Reality' For the Events Industry??
Sealy, W. C. and O'Connor, A. (2021) Is 'Virtual' the New 'Reality' For the Events Industry?? Journal on Tourism and Sustainability, 5 (1). pp. 44-52. ISSN 2515-6780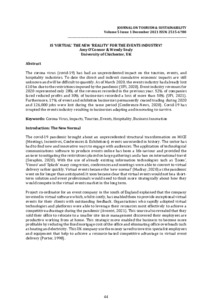 Preview
Text (© The Authors 2021.Published in Journal of tourism & sustainability: https://ontourism.academy/journal/index.php/jots/article/view/110)




JOTS+5.1.4.pdf

- Published Version
Available under License Creative Commons Attribution 4.0.
Download (352kB) | Preview
Abstract
The corona virus (covid-19) has had an unprecedented impact on the tourism, events, and hospitality industries. To date the direct and indirect cumulative economic impacts are still unknown and will be difficult to quantify. As of March 2020, the events industry had already lost £10 bn due to the restrictions imposed by the pandemic (UFI, 2020). Event industry revenues for 2020 represented only 28% of the revenues recorded in the previous year. 52% of companies faced reduced profits and 30% of businesses recorded a loss of more than 50% (UFI, 2021). Furthermore, 17% of event and exhibition businesses permanently ceased trading during 2020 and 126,000 jobs were lost during the same period (Conference-News, 2020). Covid-19 has irrupted the events industry resulting in businesses adapting and innovating to survive.
Actions (login required)