Mitchell, Z. M. (2021) Her Kind: A Discovery of Witches in Women's Poetry. Doctoral theses, University of Chichester.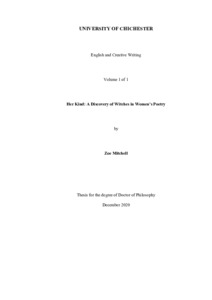 Preview
Text




UoC_thesis_ZoeMitchell.pdf

- Submitted Version
Available under License Creative Commons Attribution 4.0.
Download (1MB) | Preview
Abstract
The witch is a primarily negative stereotype of women embedded in the cultural
imagination. This poetry collection inspired by witches is accompanied by a critical
thesis considering the presentation of witches in women's poetry. Close study of
this topic highlights the patriarchal ideology at the foundation of the symbolic order
and the sexist motivations behind the designation of the witch as a villain.
The critical study focuses on a close analysis of poems by Margaret
Atwood, Louise Glück, Audre Lorde, Sylvia Plath and Anne Sexton which use the
figure of the witch to reclaim a previously negative image and expose the ideology
behind it. This analysis is supplemented by reference to the wider literature on
witches in history and mythology as well as relevant critical disciplines including
semiotics and feminism. An understanding of these poems, together with desk and
field research on witches and witchcraft, informed my own creative practice when
writing the collection Untold Fortunes.
Female poets' reframing of the witch has a positive and liberating impact on female
creative practice. Exploiting poetic tension to create greater authenticity for more
diverse voices in poetry demonstrates how the existing Western, patriarchal
symbolic order may be dismantled. It also allows for exploration of
3 intersectionality, outsider and marginalised groups and tensions between women.
A close analysis of female poets' work on witches, together with a critical
understanding of the operation of the symbolic order, reveals three key themes –
the figure of the witch as a means of exposing patriarchal social structure; the
relationship between language and power; and the witch as an emblem of female
subjectivity.
This study of powerful women has been personally and creatively transformative.
Witches bring together the personal and the political, forcing me to confront both
in my work and my understanding of literature. The work of female poets in
dismantling the negative associations between women and power provides a
foundation for more authentic and diverse female expression and has wider
implications beyond the presentation of witches or women.
Publication Type:
Theses (Doctoral)
Uncontrolled Keywords:
Witches, Poetry, Margaret Atwood, Louise Glück, Audre Lorde, Sylvia Plath, Anne Sexton, Witchcraft, Mythology, Semiotics, Feminism, Creative Writing, Creative practice.
Subjects:
H Social Sciences > HQ The family. Marriage. Women > HQ1101 Women. Feminism
P Language and Literature > PN Literature (General) > PN1010 Poetry
Divisions:
Academic Areas > Institute of Arts and Humanities > English and Creative Writing
Depositing User:

Nelly Walsh

Date Deposited:
24 Apr 2023 15:43
Last Modified:
24 Apr 2023 15:43
URI:
https://eprints.chi.ac.uk/id/eprint/6804
Actions (login required)