To know slowly: How the Feldenkrais Method® has informed a dance performance and pedagogic pathway
Howe, D. (2019) To know slowly: How the Feldenkrais Method® has informed a dance performance and pedagogic pathway. IFF Feldenkrais Research Journal, 6. pp. 1-18. ISSN 1817-4000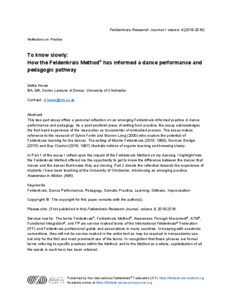 Preview
Text (Copyright the author)




To Know Slowly D Howe.pdf

- Published Version
Available under License Creative Commons Attribution.
Download (247kB) | Preview
Abstract
This two-part essay offers a personal reflection on an emerging Feldenkrais-informed practice in dance
performance and pedagogy. As a post-positivist piece of writing from practice, the essay acknowledges
the first-hand experience of the researcher as documenter of embodied process. The essay makes
reference to the research of Sylvie Fortin and Warren Long (2000) who explore the potential of
Feldenkrais learning for the dancer. The writing of Moshe Feldenkrais (2010, 1990), Norman Doidge
(2015) and Guy Claxton (2016, 1997) illustrate notions of organic learning and knowing slowly.
In Part 1 of the essay I reflect upon the impact of the Feldenkrais Method on my dancing. I highlight how
the Feldenkrais Method offered me the opportunity to get to know the difference between the dancer that
moves and the dancer that knows they are moving. Part 2 directs the reflection towards the experience of
students I have been teaching at the University of Chichester, introducing an emerging practice,
Awareness in Motion (AIM) .
Actions (login required)