Rickard, C. and Earle, L. (2018) Times tables: Children learning about multiplication facts. In: British Society for Research into Learning Mathematics, 10 Nov 2018, King's College, London.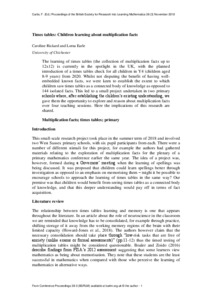 Preview
Text (Copyright the author)




BSRLM-CP-38-3-18.pdf

- Published Version
Available under License Creative Commons Attribution.
Download (120kB) | Preview
Abstract
The learning of times tables (the collection of multiplication facts up to 12x12) is currently in the spotlight in the UK, with the planned introduction of a times tables check for all children in Y4 (children aged 8-9 years) from 2020. Whilst not disputing the benefit of having wellembedded known facts, we were keen to establish the extent to which children saw times tables as a connected body of knowledge as opposed to 144 isolated facts. This led to a small project undertaken in two primary
schools where, after establishing the children's existing understanding, we gave them the opportunity to explore and reason about multiplication facts over four teaching sessions. Here the implications of this research are shared.
Actions (login required)