Crisp, P. (2019) Sports Coaching and Youth Sports. A Case Study on How Good Practice in Sport England Funded Projects can be Monitored. Journal of Sport and Games, 1 (1). pp. 15-24. ISSN 2642-8466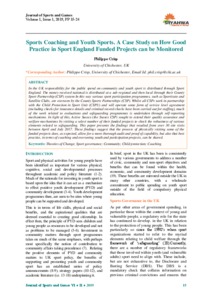 Preview
Text (Copyright: © 2019, Philippe Crisp.)




Sports Coaching and Youth Sports. A Case Study on How Good Practice in Sport England Funded Projects can be Monitored.pdf

- Published Version
Available under License Creative Commons Attribution.
Download (413kB) | Preview
Abstract
In the UK responsibility for the public spend on community and youth sport is distributed through Sport
England. The money received national is distributed at a sub-regional and then local through their County
Sport Partnership (CSP) system In this way various sport participation programmes, such as Sportivate and
Satellite Clubs, are overseen by the County Sports Partnerships (CSP). Whilst all CSPs work in partnership
with the Child Protection in Sport Unit (CSPU) and will operate some form of service level agreement
(including checks for insurance details and criminal record checks have been carried out for staffing), much
of the work related to evaluations and safeguarding programmes is undertaken through self-reporting
mechanisms. In light of this, Active Sussex (the Sussex CSP) sought to extend their quality assurance and
welfare mechanisms by visiting a select number of their funded projects to check the robustness of various
elements related to safeguarding. This paper presents the findings that resulted from over 30 site visits
between April and July 2017. These findings suggest that the process of physically visiting some of the
funded projects does, as expected, allow for a more thorough audit and proof of capability, but also that best
practice, in terms of coaching and overseeing youth and participation projects, can be shared.
Actions (login required)