Ritchie, L. and Kearney, P. E. (2018) Adult Beginner Instrumentalists' Practice, Self-Regulation, and Self-Efficacy: A Pilot Study. Journal of Education and Training Studies, 6 (5). pp. 1-9. ISSN 2324-805X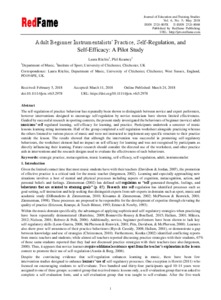 Preview
Text




2978-15275-1-PB (3).pdf

- Published Version
Available under License Creative Commons Attribution.
Download (301kB) | Preview
Abstract
The self-regulation of practice behaviour has repeatedly been shown to distinguish between novice and expert performers,
however interventions designed to encourage self-regulation by novice musicians have shown limited effectiveness.
Guided by successful research in sporting contexts, the present study investigated the behaviours of beginner (novice) adult musicians" self-regulated learning, self-efficacy for learning, and practice. Participants undertook a semester of music
lessons learning string instruments. Half of the group completed a self-regulation worksheet alongside practicing whereas
the others listened to various pieces of music and were not instructed to implement any specific structure to their practice
outside the lesson. The results showed that although the intervention was successful in promoting self-regulatory
behaviours, the worksheet element had no impact on self-efficacy for learning and was not recognised by participants as
directly influencing their learning. Future research should consider the directed use of the worksheet, and other practice
aids in interventions and the research designs used to evaluate the effectiveness of such behaviours.
Actions (login required)