Lowry, R. G. and Waller, K. (2018) Self-compassion and self-determined motivation towards exercise: An exploration or gender and age differences of regular exercisers. In: European College of Sports Science, 4-7 July 2018, Dublin, Republic of Ireland.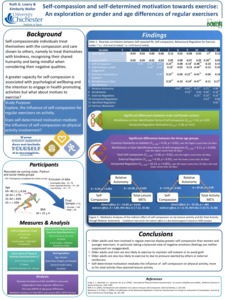 Preview
Text (European College of Sport Science Poster Presentation)




2018 ECSS Self-compassion poster.pdf

- Presentation
Available under License Creative Commons Attribution.
Download (1MB) | Preview
Abstract
Introduction: Self-compassion occurs when an individual displays kindness and understanding rather than criticism in the face of set-backs and failures. A greater capacity for self-compassion is associated with the intention to engage in health promoting activities including exercise and exercise related outcomes. The purpose of this study was to explore, using a cross-sectional design, the concept of self-compassion for regular exercisers whilst accounting for potential age and gender differences. More specifically how self-compassion relates to self-determined motivation towards exercise involvement.
Methods: Participants (n=172), recruited through social media sites aimed at recreational runners were regular exercisers (M = 40, SD = 9; males = 26; females = 146). An online survey containing the Self-Compassion Scale (Neff, 2003), the Behavioural Regulations in Exercise Questionnaire-2 (Markland & Tobin, 2004) and the International Physical Activity Questionnaire Long Form (Craig et al., 2003) was completed.
Results: Total self-compassion was related to higher intrinsic motivation and lower external and introjected regulation. Older exercisers experienced lower levels of negative self-compassion, namely self-judgement, isolation and over-identification than younger adult exercisers. Similarly males, greater total self-compassion and specifically lower negative self-compassion to female exercisers. No relationship was observed between self-compassion sub-scales and the amount of physical activity self-reported by exercisers.
Conclusion: Motivation to exercise is concerned with regulated self-determination such as health and appearance related pressures. Self-compassion was positively, linearly associated with self-determination to exercise however this the concept was not associated with the amount of physical activity completed. Older adults and men involved in exercise appear display greater self-compassion than women and younger exercisers.
Actions (login required)