Crisp, P. (2018) Sports Coach Mentoring – Impacts on the Mentors, not the 'Mentees'. A Case Study of the Active Sussex Coach Support Officers Scheme. The Sport Journal, 19. pp. 1-16. ISSN 1543-9518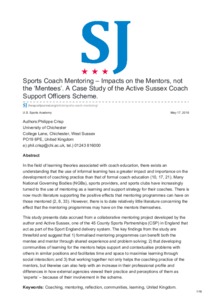 Preview
Text (Reprinted with permission from The Sport Journal, volume 19, 2018: http://thesportjournal.org/article/sports-coach-mentoring/)




thesportjournal.org-Sports Coach Mentoring Impacts on the Mentors not the Mentees A Case Study of the Active Sussex Coac.pdf

- Published Version
Available under License Creative Commons Attribution.
Download (130kB) | Preview
Abstract
In the field of learning theories associated with coach education, there exists an understanding that the use of informal learning has a greater impact and importance on the development of coaching practice than that of formal coach education (10, 17, 21). Many National Governing Bodies (NGBs), sports providers, and sports clubs have increasingly turned to the use of mentoring as a learning and support strategy for their coaches. There is now much literature supporting the positive effects that mentoring programmes can have on those mentored (2, 8, 33). However, there is to date relatively little literature concerning the effect that the mentoring programmes may have on the mentors themselves.
This study presents data accrued from a collaborative mentoring project developed by the author and Active Sussex, one of the 45 County Sports Partnerships (CSP) in England that act as part of the Sport England delivery system. The key findings from the study are threefold and suggest that 1) formalised mentoring programmes can benefit both the
mentee and mentor through shared experience and problem solving; 2) that developing communities of learning for the mentors helps support and contextualise problems with others in similar positions and facilitates time and space to maximise learning through social interaction; and 3) that working together not only helps the coaching practice of the
mentors, but likewise can also help with an increase in their professional profile and differences in how external agencies viewed their practice and perceptions of them as 'experts' – because of their involvement in the scheme.
Actions (login required)