Christian, E. (2011) Adventure Education and Disaffected Youth. In: Adventure Education: An Introduction. Routledge, London, pp. 166-186. ISBN 9780415571838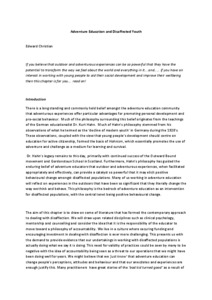 Preview
Text (This is an Accepted Manuscript of a book chapter published by Routledge in Adventure Education: An Introduction on 18 April 2011, available online: https://www.routledge.com/Adventure-Education-An-Introduction/Hodgson-Berry/p/book/9780415571852.)




Chapter 9 (final) Adventure Education and Disaffected Youth.pdf

- Accepted Version
Available under License Creative Commons Attribution.
Download (1MB) | Preview
Abstract
There is a long standing and commonly held belief amongst the adventure education community that adventurous experiences offer particular advantages for promoting personal development and pro-social behaviour. Much of the philosophy surrounding this belief originates from the teachings of the German educationalist Dr. Kurt Hahn. Much of Hahn's philosophy stemmed from his observations of what he termed as the 'decline of modern youth' in Germany during the 1920's. These observations, coupled with the view that young people's development should centre on education for active citizenship, formed the basis of Hahnism, which essentially promotes the use of adventure and challenge as a medium for learning and survival.
Dr. Hahn's legacy remains to this day, primarily with continued success of the Outward Bound movement and Gordonstoun School in Scotland. Furthermore, Hahn's philosophy has guided the enduring belief of adventure educators that outdoor and adventurous experiences, when facilitated appropriately and effectively, can provide a catalyst so powerful that it may elicit positive behavioural change amongst disaffected populations. Many of us working in adventure education will reflect on experiences in the outdoors that have been so significant that they literally change the way we think and behave. This philosophy is the bedrock of adventure education as an intervention for disaffected populations, with the central tenet being positive behavioural change.
The aim of this chapter is to draw on some of literature that has formed the contemporary approach to dealing with disaffection. We will draw upon related disciplines such as clinical psychology, mentorship and counselling and consider the idea that it is the responsibility of the educator to move toward a philosophy of accountability. We live in a culture where securing funding and encouraging investment in dealing with disaffection is ever more challenging. This presents us with the demand to provide evidence that our undertakings in working with disaffected populations is actually doing what we say it is doing. This need for validity of practices could be seen by many to be negative with the idea of accountability being seen as a threat to our operations that we might have been doing well for years. We might believe that we 'just know' that adventure education can change people's perceptions, attitudes and behaviour and that our anecdotes and experiences are enough justify this. Many practitioners have great stories of the 'bad kid turned good' as a result of personal growth and social development; and we know that adventure education is particularly effective at promoting these personality characteristics. As history has shown however, it is often the politicians and the economic climate that dictate the availability of funding for programmes in social care and public services. With this in mind there is a growing sentiment that adventure educators should aim to provide evidence that beneficial behavioural change is brought about by effective use of adventure education.
Actions (login required)