Clarke, C. and Little, J. D. (2017) The Profundity of Polychoralism: Exploring the work of Jonathan David Little [Interview and CD review]. Fanfare, 41 (2). pp. 121-131. ISSN 0148-9364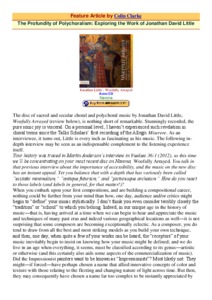 Preview
Text (I hold full permission from the Owner/Editor of US Fanfare, Joel Flegler, to extract and make available to the public any interview or review material concerning any of my own music as it appears in Fanfare, and to cite it in full)




1. ColinClarke-LITTLEWoefullyArrayedFANFARE2017.pdf

- Published Version
Available under License Creative Commons Attribution.
Download (654kB) | Preview
Abstract
Extended (7000-word) composer interview and CD review of "Woefully Arrayed: Sacred & Secular Choral & Polychoral Music of Jonathan David Little", by London-based international music critic, Colin Clarke.
[INTERVIEW:] "The disc of sacred and secular choral and polychoral music by Jonathan David Little, Woefully Arrayed … is nothing short of remarkable. Stunningly recorded, the pure sonic joy is visceral. On a personal level, I haven't experienced such revelation in choral terms since the Tallis Scholars' first recording of the Allegri Miserere. As an interviewee, it turns out, Little is every inch as fascinating as his music. The following in-depth interview may be seen as an indispensable complement to the listening experience itself."
[CD REVIEW:] "Jonathan David Little is a composer whose music is vital, urgent and yet somehow timeless at the same time. … Woefully Arrayed has a mesmeric element to it … [and] is a masterpiece of time-stretching. As lines float and interact throughout the soundspace, there is a distinct impression of atemporality, of altering the way the listener experiences time. … sound is superb, full and reverberant … magnificently handled … A superb disc, one that simply gets better on each and every listening. There is a radiance to Little's writing that seems shot through with spiritual light and which speaks on a very deep level to the listener."
PROJECT OVERVIEW: International Polychoral Music Composition, Recording and Dissemination Project (2015-17)
"The lost potential of the acoustics of performing spaces begins to be rediscovered in these works."
A complex and ambitious, large-scale, two-year "polychoral" music creation and recording project was commissioned by the Australia Council – involving communicating how "re-discovered" ancient Renaissance and Baroque techniques of acoustically-innovative performer placement may be revived within new, original, contemporary contexts. One aim was to generate interest in largely long-forgotten, but still hugely useful and aurally impressive composition methods. Following a period of research and experimentation, several new, accessible choral works were created – most featuring intricate, a cappella, polychoral-inspired techniques. Therefore different sections of the choir, or different "sub-choirs" and/or vocal soloists, are sometimes placed in various arrangements around and above the audience (occasionally also involving movement). Due to the incorporation of such techniques, a striking extra dimension is added both to recordings and live performances – where the aural "spatial" interest creates a quasi-theatrical effect.
OPEN-ACCESS ONLINE CD BOOKLET (including contextual essay, spatial configuration diagrams, lyrics, pictures and notes): http://www.navonarecords.com/catalog/nv6113/booklet---woefully-arrayed---jonathan-little.html
Publication Type:
Articles
Additional Information:
Nov./Dec. 2017. Fanfare magazine is "an American bimonthly magazine devoted to reviewing recorded music in all playback formats", describing itself as "the magazine for serious record collectors". REVIEWER BIOGRAPHY: Fanfare Contributor Bio COLIN CLARKE Colin Clarke was a manager in the classical department of the record shop at No. 1, Piccadilly, London (Zavvi; ex-Virgin Records). He read music at the University of Surrey (submitting a dissertation on the early world of Alban Berg) before studying Musical Theory and Analysis at King's College, London with V. Kofi Agawu and Professor Arnold Whittall (completing with a dissertation on "Wagner's Art of Transition: An Analysis of selected passages from Act II of Wagner's Parsifal"). He writes and has written for a variety of publications, including Tempo (Cambridge University Press), Fanfare (USA), Classical Recordings Quarterly (CRQ, formerly Classic Record Collector) and International Piano. He has also worked in Classical Music Copyright (Faber Music Limited, MCPS), and on the editorial teams of Gramophone and International Record Review. CREATION AND RECORDING: Music created and recorded (over 5 individual sessions in appropriate acoustic spaces in UK and USA): July 2015 to May 2017. Scores (ex-Australia) and recording (ex-USA) become publically available in the UK (and worldwide): July 2017 (featuring UK-based composer). LEADING PERFORMERS, PROMOTER or PARTNERS: • Jonathan David Little – composer, researcher, and project co-ordinator (UK) • Hugh Keyte – leading expert on early "polychoralism": researcher, and writer of the historical and contextual essay for the recording notes (UK) • Ian Welch – graphic designer: creator of the layout diagrams (illustrating the spatial positioning of the choral forces) • Australian Government – music commissioner/part-sponsor (via an Australia Council "Individual International Arts Project Award") (AUSTRALIA) • Australian Music Centre + Wirripang – music publishers (AUSTRALIA) • CHOIR 1: Thomas Tallis Society Choir & Philip Simms (conductor) (UK) • CHOIR 2: Vox Futura & Professor Andrew Shenton (conductor); with Heinrich Christensen (organ) (Boston, USA) • CHOIR 3: Stanbery Singers & Paul John Stanbery (conductor) (USA) • PARMA Recordings – recording contractor/recording producer (USA) & Naxos International – distributor (Hong Kong) GENERAL OVERVIEW of RECORDING ASPECT OF THE PROJECT: http://www.navonarecords.com/catalog/nv6113/ PROJECT REVIEWS 2017: http://myppk.com/Users/5816/PDFs/0323c864-5806.pdf SAMPLE SCORE WITH AUDIO on YouTube: https://youtu.be/idX6Z7wnNt4 RECORDING and SCORES held at AMC and by WIRRIPANG: http://www.australianmusiccentre.com.au/product/woefully-arrayed-sacred-secular-choral-polychoral-works http://www.australiancomposers.com.au/composers/jonathan-davidlittle.html TRACK SAMPLES ONLINE: https://www.prestoclassical.co.uk/classical/products/8338016--woefully-arrayed#reviews
Uncontrolled Keywords:
Jonathan David Little, composer, Colin Clarke, reviewer, Fanfare Magazine, Woefully Arrayed, composer interview
Subjects:
M Music and Books on Music > M Music
M Music and Books on Music > ML Literature of music
M Music and Books on Music > MT Musical instruction and study > MT40-67 Composition. Elements and techniques of music
Divisions:
Academic Areas > Conservatoire
Related URLs:
Depositing User:

Jonathan Little

Date Deposited:
14 Dec 2017 13:23
Last Modified:
14 May 2018 13:39
URI:
https://eprints.chi.ac.uk/id/eprint/2871
Actions (login required)