Bountakis, G. and Callan, M. (2017) Judo rhythm through music and dance. In: Conference Proceedings - 4th European Science of Judo Research Symposium & 3rd Scientific and Professional Conference on Judo: "Applicable Research in Judo". Croatian Judo Federation, Porec, Croatia.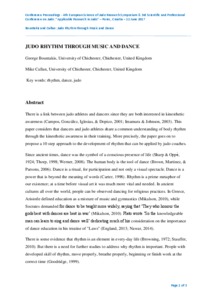 Preview
Text




Porec-JUDO RHYTHM THROUGH MUSIC AND DANCE - Bountakis & Callan.pdf

- Accepted Version
Available under License Creative Commons Attribution.
Download (304kB) | Preview
Abstract
There is a link between judo athletes and dancers since they are both interested in kinesthetic awareness. This paper considers that dancers and judo athletes share a common understanding of body rhythm through the kinesthetic awareness in their training. More precisely, the paper goes on to propose a 10 step approach to the development of rhythm that can be applied by judo coaches.
Actions (login required)