Callan, M. (2017) Mrs Sarah Mayer, a black belt millionairess in 1930s Tokyo. University of Chichester, Chichester.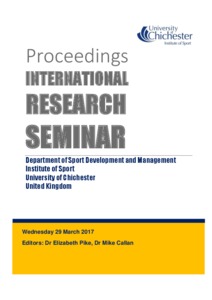 Preview
Text




Proceedings International Research Seminar.pdf

- Published Version
Available under License Creative Commons Attribution.
Download (655kB) | Preview
Abstract
Sarah Mayer is an important figure in the history of women's judo internationally. Her achievement as the first foreign woman in Japan to receive a black belt for judo in 1935, gives an indication of her significance, but a study of her life and background as an actress and theatrical entrepreneur, and as a sportswoman; in conjunction with an investigation into the social stratum in which she existed, gives us important insights into this sporting pioneer and role model.
Mayer was a British actress and playwright, who played a role in terms of the globalization of sport in the interwar years. She was treated in an unprecedented way by the establishment in Japan, whereby, as a woman, she was allowed to train in male dōjō, particularly, the Kōdōkan and Butokuden, the former being the origin of judo in Japan, and the latter, part of a military training establishment. Mayer also contributed to the drive for female participation of judo in Japan in the lead up to the Second World War.
Drawing primarily on the letters that Mayer wrote to her judo teacher, Gunji Koizumi, this paper covers seven main themes which relate to her life;
1. Max Mayer – Diamonds and Pearls
2. Gunji Koizumi – Judo at the Budokwai
3. Herbert Percival - Letters from a ship
4. Bathing with the police
5. Kano, Hatta, Mifune, Isogai – The Kodokan and Butokukai
6. A black belt returns from Japan
7. The Shaw Millionairess
Max Mayer, her father-in-law, was a diamond and pearl merchant based in Hatton Garden, London, and the victim of the 'Great Pearl Robbery of 1913'. He also owned the Agra Diamond (32 carats), formerly owned by the First Mogul emperor Babur (1483-1530)
In 1926 Sarah started to practise judo at the London Budokwai near Buckingham Palace, where she was taught by Koizumi Gunji, 'The father of British Judo'. In December 1933, Sarah travelled from Liverpool to Bombay, and onward to Kobe, and started to write to Koizumi.
Writing about Capt. Herbert Percival of the ship City of Baroda, she says; 'If all the captains I meet are so kind to me, I shall never want to come back'.
She was introduced to the Kōdōkan by Hatta Ichiro from Waseda University, Secretary to Jigoro Kano who later became a member of Japanese Diet, and President of All-Japan Wrestling Association,
In 1939, Sarah Mayer wrote an article in the Sunday Express, entitled, 'Having a Bath in Japan'.
'Anyway I am getting used to them all now and they are getting used to me. I have even recovered from the shock of finding that I was expected to share the bathroom -- not to mention the bath -- with the entire Kobe police force'.
In 1935 Isogai Hajime, awarded Sarah 1st dan at the Dai Nippon Butoku Kai in Kyoto, after she had received 1st Kyu at Kōdōkan. This received a lot of press attention.
She returned to UK May 1935 and started divorce proceedings citing Mrs Dorothy Harris (Dorothy Seacombe, Hollywood Actress), and was awarded a significant settlement.
Returning to the Theatre, she met George Bernard Shaw, who re-wrote "The Millionairess" to make the lead character Epifania, a judo player. A role played by Sarah in 1940 in Eastbourne, before Katherine Hepburn in 1951 in the West End, and Sophia Loren in the 1960 movie opposite Peter Sellers.
Actions (login required)