Wilford, A. (2016) Traveling Light Through Transparency: Preliminary Materials For A Walkshopinar. In: American Society Of Theatre Research, November 3-6 2016, Minneapolis, Minnesota. (Unpublished)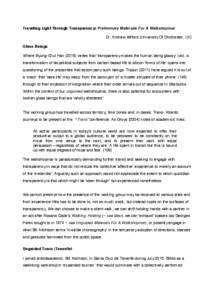 Preview
Text (A Walkshopinar)




Travelling Light Through Transparency- A Workshopinar (Minneapolis).pdf

- Draft Version
Available under License Creative Commons Attribution.
Download (3MB) | Preview
Abstract
In his essay on The Transparency Society (2015), Byung-Chul Han outlines a network of concepts that might be readily brought to a collective investigation of 'everyday transparency' for the working group at ASTR "Trans-" conference.
The 'walkshopinar' will offer the working group opportunity for a responsive engagement with sites close to the conference venue and short group travels between. A paper will provide a conceptual 'unguided' approach to the site-activity and will facilitate part of the working group's session at the conference on Saturday 5th November (2.15-5.15pm).
The critical imperative of the workshop will be to 'travel light'. No demands will be made of participants and, as example, in lieu of Han's critical positioning on exhibition participants will not be required to engage in anything spectacular. Participants will be encouraged to orient an experience of the sites within a conceptual mapping of transparency through Han's terms; positivity, exhibition, evidence, pornography, acceleration, intimacy, control and information.
The 'unguided' paper will provide a resource for both the mapping process of Han's concepts and seek to further generate the potential of individual responses to 'traveling light through transparency' in Downtown Minneapolis.
Actions (login required)