Giemza, M. J. (2007) Box of chalks: a sequence of poems based on the conscription of Polish boys into the German Army under the Volksliste. Doctoral theses, University of Southampton; University of Chichester.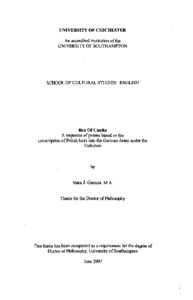 Preview
Text




571635.pdf

- Submitted Version
Available under License Creative Commons Attribution.
Download (8MB) | Preview
Abstract
This creative thesis comprises a book length collection of poems entitled Box Of Chalks, and an accompanying prose commentary exploring issues of research, drafting and the forming of a narrative sequence of poetry. The book of poems is based on the experience of Polish boys and men forcibly conscripted into the German Army by National Decree, 4th March 1941. This enforced conscription remains a little acknowledged fact which I discovered is still refuted in some Polish communities. The poems are written from the viewpoint of one conscript. They consist of dramatic monologues, a duologue and a voice of the Valksliste. The poems cover a period from boyhood to old age. The accompanying prose commentary on the process of researching the historical material and the artistic drafting of the poems is formed of six chapters. Chapter One explores the genesis of the poems in the historical events of German conscription in Silesian Poland. Chapter Two discusses the ethics of using another's voice and the painful experiences. In this chapter, I trace the creative choices made from composite experiences as the voice of the sequence gradually developed. In Chapter Three, I show how facts, memories and experiences were gleaned through interviewing survivors and one survivor in particular. This chapter further examines the history of the Polish war experience and shows how oral reminiscence is linked to historically recorded events. The chapter shows how gleanings from these 'rememberings' formed the basis of individual poems and discusses the difficulties of opening up delicate matters linked to emotions of shame and guilt in the surviving community. Chapter Four examines the difficulties and rewards in finding the most appropriate opening for the narrative. I aim to demonstrate how the sequence of poems benefited from structuring techniques and a 'layering of imagery and sound', which, although discovered late in the process, helped to form a cohesive narrative. Chapter Five discusses the drafting of key poems and the challenge of unexpected inconsistencies encountered when designing the poetic sequence. Here, I explore the demands of forming a longer narrative out of individual poems, for example the need for bridging poems, continuity and telling the larger story mainly through one voice. Chapter Six demonstrates how a large part of the sequence was written transposing some of my own historical and cultural experiences through corresponding physical detail. Here, I explore experiments in creating characters and physical details to develop the world of the narrative and its accumulative progression. I conclude this thesis by acknowledging that the consequences of conscription continued long after the war had ended and has had an effect on later generations.
Actions (login required)