Figgins, S. G. (2018) A qualitative exploration of inspirational leadership in sport. Doctoral theses, University of Chichester.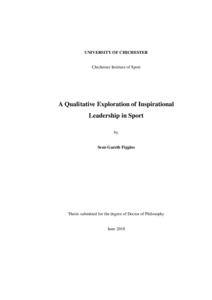 Preview
Text (Figgins, S. G., A qualitative exploration of inspirational leadership in sport 2018. Doctoral thesis awarded by the University of Chichester.)




FIGGINS Sean PhD Thesis_final.pdf

- Accepted Version
Available under License Creative Commons Attribution Non-commercial No Derivatives 4.0.
Download (2MB) | Preview
Abstract
Inspiration has often been cited as the driving force behind extraordinary human
achievement (Thrash & Elliot, 2003). Despite this, until recently, inspiration as a
psychological construct has been ignored, misunderstood, and underdeveloped (Thrash,
Moldovan, Oleynick, & Maruskin, 2014). Consequently, over the past 15 years,
researchers (e.g., Thrash & Elliot, 2003, 2004) have sought to understand inspiration,
through providing a conceptualisation of inspiration (cf. Thrash & Elliot, 2003, 2004;
Thrash, Maruskin, Cassidy, Fryer, & Ryan, 2010), and identifying a range of positive
performance (e.g., work-absorption, mastery, and effort) and well-being related
consequences for individuals when inspired. Such outcomes would appear beneficial to
sport performers. However, while initial research in a sporting context has shown
inspiration to be associated with motivation (Gonzalez, Metzler, & Newton, 2011) and
mental toughness (Gucciardi, Jackson, Hanton, & Reid, 2015), limited research has
explored the construct of inspiration in sport. This thesis explored the sources of
inspiration for athletes and how leaders inspire athletes. Three studies were conducted
to meet these aims. First, in Study 1, athletes were asked to write about an experience
where they were inspired. Analysis of these accounts indicated that athletes were
inspired by three sources: personal performances, thoughts, and accomplishments;
interacting with and watching role models; and demonstrations of leadership. In
addition, inspiration was proposed to lead to positive cognitive, affective, and
behavioural consequences. Given that most athletes interact with coaches, the two
studies that followed focus on leaders as a source of inspiration. In Study 2, athletes
were interviewed regarding their experiences of inspirational leadership from coaches.
Analysis indicated that prior to being inspired athletes could experience situations with
negative consequences, positive performances, and experienced mainly negative
ii
cognitions and emotions. In these situations, athletes reported being inspired when
coaches demonstrated belief, had positive emotional reactions to performances,
provided support, showed the way forward, and role modelled desirable behaviour.
However, Study 2 did not identify factors that might explain the inspirational impact
that coaches had on athletes. Taking this into account and considering the lack of a
theoretically underpinned model explaining how leaders inspire athletes, the purpose of
Study 3 was to develop a grounded theory that explains the process through which
coaches inspire athletes. Interviews and focus groups were conducted with athletes and
coaches at various performance levels. Data analysis led to a grounded theory built
around the core category of 'Athlete(s) inspired through changed awareness of their
capabilities.' The theory predicts that coaches can inspire athletes in situations where
the athletes feel vulnerable (e.g., are unsure of how to overcome their current situation)
or ignorant (e.g., are unaware of their future potential) by acting in a manner that could
change their awareness of their capabilities, but only if they have established trust and
respect with their athletes. In addition, the grounded theory highlights several factors
(relating to the athlete, the coach, and the context) that impact on the process. Overall,
this thesis provides the first sport-specific theory of inspirational leadership and,
additionally, highlights several theoretical links which may enhance our understanding of leader influence.
Actions (login required)