Wilford, A. (2023) There is a spectre haunting creativity: C.E.O. creatives & A.I.'s uncreative labour. In: University Of Chichester Research Conference 2023, 5th & 6th July 2023, Bognor Regis Campus. (Submitted)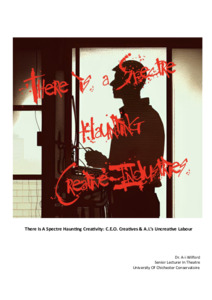 Preview
Text (Technopolitical Performativity, Digital Biopolitics, Artificial Intelligence, Uncreativity.)




THERE IS A SPECTRE HAUNTING CREATIVITY.pdf

- Submitted Version
Available under License Creative Commons Attribution 4.0.
Download (919kB) | Preview
Abstract
This paper evokes the spectre haunting Creative Industries, focusing first on the emergence of the Creative as a popular figure in contemporary cultural circulation. The study opens onto how artistic association with suffering and estrangement are eclipsed by the Creative as embodiment of entrepreneurial hegemony and neoliberal biopolitical imperative.
Through analysis of popular cultural representations in relation to real C.E.O. counterparts, the paper exposes the conceptual commodification of creativity in the disconnects between 'crowned anarchy' capitalism and the labour- intensive, precarities of cultural production.
The role of Artificial Intelligence (A.I.) in creativity discourse and its immediate impact on labour processes is further considered within this A.I. assisted/resisted research foray into technopolitical performativity.
The paper concludes with a co-authored Human-AI-festo for Unwired Minds' confronting the need to challenge ideological normatives in creativity discourse. As a means of counter-acting technopolitical commodification, the autopoiesis instead seeks to foster resistance oriented by uncreative criticality.
Actions (login required)