Physical Employment Standards for UK Firefighters: Minimum Muscular Strength and Endurance Requirements
Stevenson, R. D. M., Siddall, A. G., Turner, P. J. F. and Bilzon, J. L. J.et al (2017) Physical Employment Standards for UK Firefighters: Minimum Muscular Strength and Endurance Requirements. Journal of Occupational and Environmental Medicine, 59 (1). pp. 74-79. ISSN 1536-5948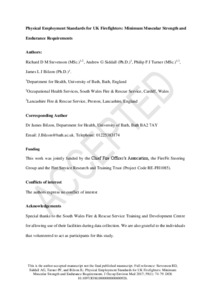 Preview
Text (This is the author-accepted manuscript not the final published manuscript. Stevenson RD, Siddall AG, Turner PF, and Bilzon JL: Physical Employment Standards for UK Firefighters: Minimum Muscular Strength and Endurance Requirements.)




Stevenson 2016_FF Strength_Author approved.pdf

- Accepted Version
Available under License Creative Commons Attribution Non-commercial No Derivatives.
Download (673kB) | Preview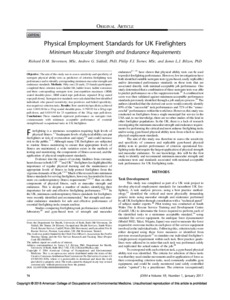 Preview
Text




Physical_Employment_Standards_for_UK_Firefighters_.12 (1).pdf

- Published Version
Available under License Creative Commons Attribution Non-commercial No Derivatives.
Download (229kB) | Preview
Abstract
Objective: To assess sensitivity and specificity of surrogate physical ability tests as predictors
of criterion firefighting task performance and to identify corresponding minimum muscular
strength and endurance standards. Methods: Fifty-one (26 male; 25 female) participants
completed three criterion tasks (ladder lift, ladder lower, ladder extension) and three
corresponding surrogate tests (One-repetition maximum (1RM) seated shoulder press; 1RM
seated rope pull-down; repeated 28 kg seated rope pull-down). Surrogate test standards were
calculated that best identified individuals who passed (sensitivity; true positives) and failed
(specificity; true negatives) criterion tasks. Results: Best sensitivity/specificity achieved were
1.00/1.00 for a 35 kg seated shoulder press, 0.79/0.92 for a 60 kg rope pull-down and 0.83/0.93
for 23 repetitions of the 28 kg rope pull-down. Conclusions: These standards represent
performance on surrogate tests commensurate with minimum acceptable performance of
essential strength-based occupational tasks in UK firefighters.
Actions (login required)