Gianfrancesco, L. (2018) Narratives and representations of a disaster in early seventeenth-century Naples. In: Disaster Narratives in Early Modern Naples: Politics, Communication and Culture. Viella Historical Research (10). Viella, Rome, pp. 153-176. ISBN 978-88-6728-645-4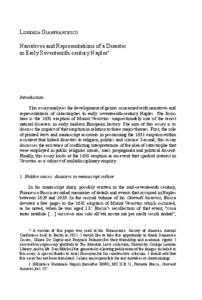 Preview
Text




Gianfrancesco L. Narratives and Representations of a Disaster in Early Seventeenth-Century Naples.pdf

- Accepted Version
Available under License Creative Commons Attribution.
Download (1MB) | Preview
Abstract
This essay analyses the development of genres concerned with narratives and
representations of catastrophes in early seventeenth-century Naples. The focus
here is the 1631 eruption of Mount Vesuvius: unquestionably one of the worst
natural disasters in early modern European history. The aim of this essay is to
discuss the impact of that eruption in relation to three major themes. First, the role
of printed texts and manuscript accounts in positioning the 1631 eruption within
a context that linked disasters to religion, politics and science. Second, this essay
discusses the existence of conflicting interpretations of the idea of catastrophe that
were employed in public religious rituals, mass propaganda and political dissent.
Finally, this essay looks at the 1631 eruption as an event that sparked interest in
Vesuvius as a subject of multidisciplinary enquiry.
Actions (login required)