Stevenson, R. D. M., Siddall, A. G., Turner, P. J. F. and Bilzon, J. L. J.et al (2016) A Task Analysis Methodology for the Development of Minimum Physical Employment Standards. Journal of Occupational and Environmental Medicine. ISSN 1536-5948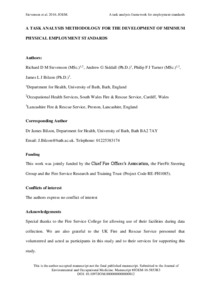 Preview
Text




Stevenson et al. 2016_JOEM_Task Analysis Methodology.pdf

- Accepted Version
Available under License Creative Commons Attribution Non-commercial.
Download (273kB) | Preview
Abstract
Objective: To develop a systematic task analysis process for determination of minimum
acceptable job performance in arduous safety-related occupations.
Methods: A task analysis
using modifications on established methods was completed in UK firefighters. Subject-matter
experts (all male) identified critical, physically arduous tasks generic to all UK firefighters
and developed individual, role-specific task simulations. Video footage and blinded voting
were used to determine minimum acceptable task performance.
Results: Eight tasks were
identified in combination with role-specific variations, task simulations suitable for use in a
physical demands analysis and corresponding minimum acceptable performance.
Conclusions: The bespoke steps highlighted here allow structured identification of taskspecific minimum performance standards and simulations from which physical employment
standards could be based. However, including a more divergent expert panel with respect to
age, sex and race would strengthen the applicability of this framework in future practice.
| | |
| --- | --- |
| Publication Type: | Articles |
| Additional Information: | This is the author-accepted manuscript not the final published manuscript. Submitted to the Journal of Environmental and Occupational Medicine. Manuscript #JOEM-16-5853R3 DOI: 10.1097/JOM.0000000000000812 |
| Uncontrolled Keywords: | Physically demanding occupations, task analysis, physical demands analysis, physical fitness, physical employment standards |
| Subjects: | Q Science > QP Physiology |
| Divisions: | Academic Areas > Institute of Sport > Area > Exercise Physiology |
| Depositing User: | Andy Siddall |
| Date Deposited: | 24 Feb 2019 14:22 |
| Last Modified: | 01 Jun 2020 13:26 |
| URI: | https://eprints.chi.ac.uk/id/eprint/4271 |
Actions (login required)