Understanding the key phases of the countermovement jump force-time curve
McMahon, J., Suchomel, T. J., Lake, J. P. and Comfort, P.et al (2018) Understanding the key phases of the countermovement jump force-time curve. Strength and Conditioning Journal, 40 (4). pp. 96-106. ISSN 1533-4295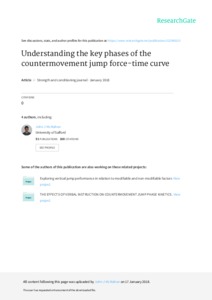 Preview
Text




UNDERSTANDINGTHEKEYPHASESOFTHECOUNTERMOVEMENTJUMPFORCE-TIMECURVE.pdf

- Accepted Version
Available under License Creative Commons Attribution.
Download (651kB) | Preview
Abstract
The countermovement jump (CMJ) test is commonly conducted to assess
neuromuscular function and is being increasingly performed using force platforms.
Comprehensive insight into athletes' neuromuscular function can be gained through detailed
analyses of force-time curves throughout specific phases of the CMJ, beyond jump height
alone. Confusingly, however, many different terms and methods have been used to describe
the different phases of the CMJ. This article describes how six key phases of the CMJ
(weighing, unweighting, braking, propulsion, flight, and landing) can be derived from forcetime records to facilitate researchers' and practitioners' understanding and application to their
own practice.
Actions (login required)