Bishop, C., Read, P., Lake, J. P., Chavda, S. and Turner, A.et al (2018) Inter-limb asymmetries: Understanding how to calculate differences from bilateral and unilateral tests. Strength and Conditioning Journal. ISSN 1533-4295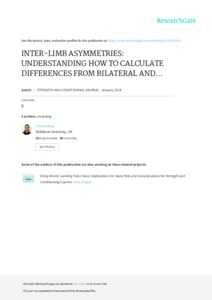 Preview
Text




BIvs.UNIAsymmetryPaper.pdf

- Accepted Version
Available under License Creative Commons Attribution.
Download (411kB) | Preview
Abstract
Inter-limb asymmetries have been a popular topic of investigation in the strength and
conditioning literature. Recently, numerous equations have been highlighted that can quantify
these between-limb differences. However, no distinction was provided on whether their use
was applicable to both bilateral and unilateral tests. This article provides a framework for
selecting the most appropriate asymmetry equation based on the selected test method,
ensuring accurate calculation and interpretation. In addition, considerations for data analysis
have also been included as a guide for practitioners on the relevance of monitoring inter-limb
differences longitudinally.
Actions (login required)