Hornsby, I. (1998) On Quality (A critical reading of Robert M. Pirsig's Zen and the Art of Motorcycle Maintenance and Lila). Masters theses, Southampton University.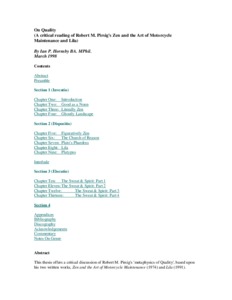 Preview
Text




On Quality.pdf

- Submitted Version
Available under License Creative Commons Attribution.
Download (754kB) | Preview
Abstract
This thesis offers a critical discussion of Robert M. Pirsig's 'metaphysics of Quality', based upon his two written works, Zen and the Art of Motorcycle Maintenance (1974) and Lila (1991).
Discussion is pursued through a narrative style loosely modelled on Pirsig's literary contemplation of composition and Quality, but also with an emphasis on the form of a Platonic dialogue, albeit from a Postmodern perspective.
The issues raised in the thesis focus upon an examination of Pirsig's conception of Quality in the light of philosophical histories and Deconstruction and include a detailed discussion of whether all forms of writing are, by definition, both creative and rhetorical. Investigation is also made into elements of Zen Buddhism and Taoism in relation to Quality and Post-Structuralism. I analyse Pirsig's use of specific terms such as 'The Platypus' (that which challenges traditional categorisation); the 'Church of Reason' (a critique of a blind faith in logic), 'Care' (a term with close links to Heidegger's philosophy) and the 'ghost of rationality' (reality constructed upon the voices of the dead). I also examine Pirsig's attempts to disseminate binary oppositions such as Literature/Philosophy, Classic/Romantic and Subject/Object. The thesis concludes by discussing, with the personifications of the 'ghosts of rationality', the merits of Pirsig's suggestion that everything in the universe is an ethical activity.
Actions (login required)