Parfitt, C. (2016) "I breathed on their dust": Protean Memory and Tactile Media. In: Beyond Authenticity and Appropriation: Bodies, Authorship and Choreographies of Transmission, 3rd-6th November 2016, Pomona College, Claremont, California. (Submitted)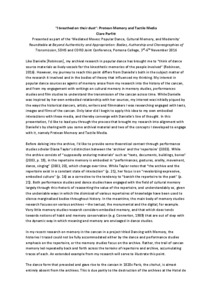 Preview
Text




I breathed on their dust - with endnotes and bibliography - for upload.pdf

- Presentation
Available under License Creative Commons Attribution.
Download (528kB) | Preview
Abstract
When popular dances are 'captured' in mediated forms (texts, artworks, films, digital files), they gain a mobility, exchangeability and material persistence that alter their relationships to discourses of modernity, capitalism and history. Mediation may grant popular dance forms entry into canons, the modern art market and the archive (offline and online), changing the way they are remembered (or forgotten). This roundtable focuses on popular dance forms as they shift back and forth between the immediate and the mediated, the repertoire and the archive (Taylor, 2003), 'unauthorised' popular culture and authored cultural product (Holt, 2011).
Four panelists will present short position papers exploring cultural memory, mediation and modernity in relation to print images circulated across the "imperial meridian" (Bayly, 1989) of the late eighteenth- and early nineteenth-centuries (John Cooper), the early history of the French cancan (Clare Parfitt-Brown), American social dancing of the early twentieth century (Danielle Robinson) and Canadian documentaries of the 1960s (Allana Lindgren). This will be followed by a guided discussion addressing questions such as:
• What happens to cultural memories of movement as they shift between bodies, images, texts and other media?
• Does the consideration of popular dance and cultural memory challenge canonical dance histories and offer new methodologies for constructing dance histories?
• Do circulations of popular dance forms disrupt histories and geographies of modernity (e.g. Bayly's "imperial meridian", Gilroy's "black Atlantic")?
This roundtable emerges from the AHRC-funded Dancing with Memory project based at the University of Chichester and is affiliated with the PoP Moves international research group.
Format Notes:
The four panellists will present short position papers (approximately ten minutes) and then use the above questions to stimulate a discussion among themselves and audience members.
Participants:
Danielle Robinson
Clare Parfitt
John Cooper
Allana Lindgren
Actions (login required)