Little, J. D. (2007) New Artistic Projects: Some Methods of Proceeding. In: The Musicians' and Songwriters' Yearbook 2008: The Essential Resource for Anyone Working in the Music Industry. A&C Black, London, pp. 121-122. ISBN 9780713684728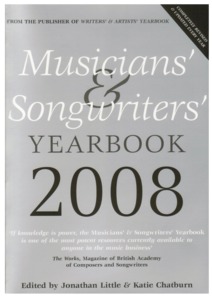 Preview
Image (BOOK JACKET - The Musicians' and Songwriters' Yearbook 2008)




MSYB 2008 JACKETS.pdf

- Cover Image
Available under License Creative Commons Attribution.
Download (1MB) | Preview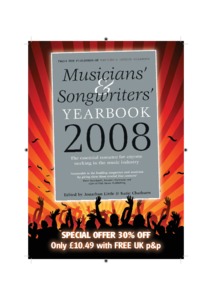 Preview
Image (Promotional Leaflet - Musicians' and Songwriters' Yearbook 2008)




myb_leaflet_small[2008].pdf

- Supplemental Material
Available under License Creative Commons Attribution.
Download (417kB) | Preview
Abstract
"Based on the experience of mounting successful concerts, producing records, providing the blueprints for new music courses, and even helping design purpose-built facilities for music, Jonathan Little codifies the main points to be considered when co-ordinating a new music-based project."
"The essential 'black book' to the music world, this authoritative reference book contains contact names and vital information covering all aspects of the industry. ... Packed with all the latest information on the industry, this is a book to suit all types of musicians, whether from a rock and pop, jazz or classical background."
With a Foreword by John Kennedy, OBE, former President of Universal Music International, and Chairman of the International Federation of the Phonographic Industry.
(From the publisher of "Writers' and Artists' Yearbook".)
Actions (login required)