Little, J. D. (2006) DJs. In: The Musicians' and Songwriters' Yearbook 2007: The Essential Resource for Anyone Working in the Music Industry. A&C Black, London, pp. 98-99. ISBN 978-0713675313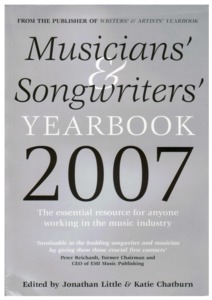 Preview
Image (BOOK JACKET - The Musicians' and Songwriters' Yearbook 2007)




MSYB 2007 JACKETS.docx.pdf

- Cover Image
Available under License Creative Commons Attribution.
Download (1MB) | Preview
Abstract
Section Introduction.
"The essential 'black book' to the music world, this authoritative reference book contains contact names and vital information covering all aspects of the industry. ... Packed with all the latest information on the industry, this is a book to suit all types of musicians, whether from a rock and pop, jazz or classical background."
With a Foreword by Peter Reichardt, former Chairman and CEO of EMI Music Publishing. Includes articles commissioned from leading UK music personalities.
(From the publisher of "Writers' and Artists' Yearbook".)
Available Versions of this Item
DJs. (deposited 17 Jan 2017 12:59)

[Currently Displayed]
Actions (login required)