Little, J. D. (2005) The Complete Songwriter: An Antidote to Industry Short-Termism [or, The Complete Songwriter/Producer]. In: Heart and Soul: Revealing the Craft of Songwriting. Sanctuary, London, pp. 338-347. ISBN 1-8607-4641-1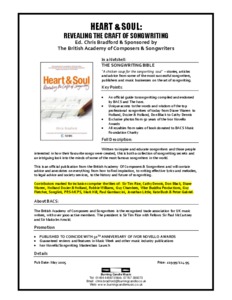 Preview
Text (Heart and Soul: Book description (one-sheet))




Heart and Soul Summary Sheet 2.pdf

- Supplemental Material
Available under License Creative Commons Attribution.
Download (465kB) | Preview
Abstract
ABOUT THIS CHAPTER:
"This section considers some of the consequences of the present-day short-termism of major record labels and publishers, who, in all fairness, are beset by increasingly substantial development and marketing costs whenever they sign new talent. Technology has, once again, enabled several traditionally separate functions to be undertaken by a single individual, so that the truly competent songwriter/producer, for instance, can now potentially do everything from create new sounds to master a demo recording, or even produce the final master recording itself. But the demands on such individuals, or songwriting teams, are clearly heavier than ever. ... The era of the single musical specialism seems to be passing, with the truly successful and long-lived composer-musicians of tomorrow likely to be multi-specialists within their chosen field."
ABOUT THIS BOOK:
Published in celebration of the 50th anniversary of the Ivor Novello Awards, being an Official Guide to Songwriting, commissioned by the British Academy of Composers and Songwriters. With contributions from leading songwriters worldwide [invited contribution].
Offering unique access to the words and wisdom of some of the most successful songwriters of the last 50 years, "Heart & Soul - Revealing the Craft of Songwriting" is both a collection of songwriting secrets and an intriguing look into the minds of professional songwriters.
Containing everything an aspiring songwriter needs to know, from how to find inspiration to writing effective lyrics and melodies, and including essential information on the music industry, advice on publishing contracts, as well as the history and future of songwriting. Over 200 No.1 songs have been written between the book's contributors, making Heart & Soul the most authoritative guide to the craft of songwriting.
With a foreword by Guy Chambers (Robbie Williams' co-writing partner), the book features exclusive interviews with top songwriters including Don Black, Wayne Hector, Rob Davis and The Darkness and also includes the first published UK joint interview with Holland, Dozier & Holland.
The only songwriting book to be compiled and endorsed by The British Academy of Composers & Songwriters, "Heart & Soul" is being published as part of the 50th Anniversary of the prestigious Ivor Novello Awards.
"By songwriters for songwriters, this book offers a glimpse into the mind of the professional songwriter. I highly recommend it." -- Sir Tim Rice, Lyricist
"Crammed with songwriting tips from those who really know what they are talking about." -- Pete Kirtley, Ivor Novello winning songwriter and producer
"I loved reading this book. Really helpful to everyone in the music business. A must for your library!" -- Ray Davies, Songwriter
"This songwriting book is such a great idea and will inspire any would be songwriters to give it a go." -- Barry Mason, Ivor Novello winning songwriter of "Delilah"
All royalties are donated to The Academy Music Foundation charity.
Actions (login required)