Little, J. D. (2000) Antique Sonnets - Personal and Philosophical, First Series. Antique Sonnets, 1 . Tillet Press, Malvern, UK.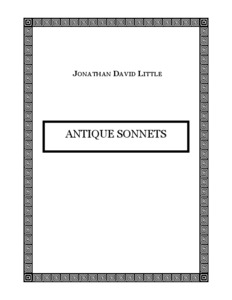 Preview
Text (FULL TEXT: Antique Sonnets, First Series (Malvern, UK: Tillet Press, 2000))




Little, J. D., Antique Sonnets 1st Series.pdf

- Published Version
Available under License Creative Commons Attribution.
Download (565kB) | Preview
Abstract
Poems of the "Picturesque Archaic" School.
Contemporary subjects in Shakespearean, Spenserian, Petrarchan, and Idiosyncratic sonnet forms - or "New Wine in Old Bottles". Modern sonnets using antique forms - abounding in rhyme and rhythm.
Actions (login required)