Little, J. D. (2001) Oriental Colour and Atmosphere: Why Exotic Colour became Prominent in 19th- and early 20th-Century Orchestration. FoMRHI Quarterly [Journal of the Fellowship of Makers and Researchers of Historic Instruments] (102). pp. 23-28.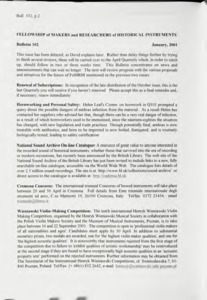 Preview
Text (FoMRHI Quarterly, no.102 (Jan. 2001), 23-28, Comm.1745)




Fomrhi-102.pdf

- Published Version
Available under License Creative Commons Attribution.
Download (1MB) | Preview
Abstract
[From the first paragraph onwards:]
It was almost entirely due to the taste for the "exotic" that the art of the nineteenth century came to display a focus on colour and technique unknown before. If colour and attention to detail do indeed "abound in all aspects of Oriental life", then these are precisely the qualities that one must look for in art which is inspired by the Orient (Freeman et al. 1990: 25) ... [and it] was as a direct consequence of the nineteenth-century penchant for exotic and "Oriental" art that "programmatic" or descriptive forms of expression rose to new heights. ...
Indeed, musical Orientalism can be said to have played a major role in revitalizing a variety of musical parameters - formal, harmonic and metrical - but especially instrumental "colour".
| | |
| --- | --- |
| Publication Type: | Articles |
| Additional Information: | Communication No.1745. Scanned back copies of FoMRHI Quarterly are freely available via the link provided.) |
| Uncontrolled Keywords: | exoticism, musical orientalism, Romantic, programmatic, programme music, local colour, Charles-Marie Widor, La Technique de I'orchestre moderne, Principles of Orchestration, Rimsky-Korsakov, Charles Blanc, Delacroix |
| Subjects: | M Music and Books on Music > MT Musical instruction and study |
| Divisions: | Academic Areas > Conservatoire |
| Related URLs: | |
| Depositing User: | Jonathan Little |
| Date Deposited: | 12 Jan 2017 13:50 |
| Last Modified: | 21 Aug 2017 09:42 |
| URI: | https://eprints.chi.ac.uk/id/eprint/2284 |
Actions (login required)