Little, J. D. (2000) On Western Travellers who described and drew inspiration from "Eastern" instruments and music, ca.1830s-1850s. FoMRHI Quarterly [Journal of the Fellowship of Makers and Researchers of Historic Instruments] (98). pp. 41-45.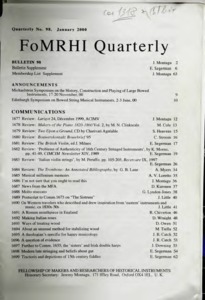 Preview
Text (FoMRHI Quarterly, no.98 (Jan. 2000) - see: 41-45, Comm.1690)




Fomrhi-098.pdf

- Published Version
Available under License Creative Commons Attribution.
Download (3MB) | Preview
Abstract
This concise article samples and distills, in overview, some essential descriptions, line drawings, and musical transcriptions, which ultimately came to inspire Western composers entranced by the concept of the "Orient" in the mid nineteenth century - as documented by two intrepid early "ethnomusicologist-travellers": the British Egyptologist/Orientalist, Edward William Lane (1801-76), and the influential French composer-explorer, Felicien David (1810-76).
Actions (login required)