Little, J. D. (1999) The Sistrum – and How to Make One. FoMRHI Quarterly [Journal of the Fellowship of Makers and Researchers of Historic Instruments] (97). pp. 29-33.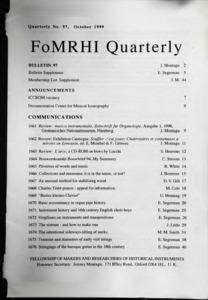 Preview
Text (FoMRHI Quarterly, no.97 (Oct. 1999) - see: 29-33, Comm.1673)




Fomrhi-097.pdf

- Published Version
Available under License Creative Commons Attribution.
Download (2MB) | Preview
Abstract
This article explains how a practical sistrum may be made - and one with sufficient volume and appropriate brightness to be of use within the context of Western orchestral music written during the nineteenth-century and onwards.
Actions (login required)