Gloria, Op.18 ("Et in Arcadia ego: An Apotheosis") (from 'Missa Temporis Perditi')
Little, J. D. (2016) Gloria, Op.18 ("Et in Arcadia ego: An Apotheosis") (from 'Missa Temporis Perditi'). [Compositions]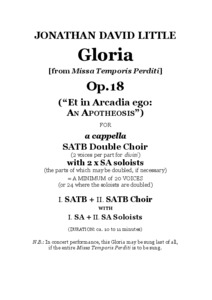 Preview
Text (Title Pages: incl. Spatial Configuration and Score Sample)




+++GLORIA TITLES & P.1 SAMPLE.pdf

- Submitted Version
Available under License Creative Commons Attribution.
Download (711kB) | Preview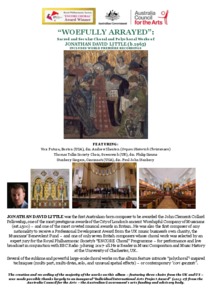 Preview
Text (Woefully Arrayed: Polychoral composition and recording project description)




PARMA ONE-SHEET NOTES.docx.pdf

- Supplemental Material
Available under License Creative Commons Attribution.
Download (489kB) | Preview
Abstract
For a cappella SATB Double Choir, with 2 x SA Soloists (completed November 2016):
1. SATB Choir 1: 2xS, 2xA, 2xT, 2xB (8) = min.2 voices per line for divisi (SSAATTBB)* (stage left side) +
2. SATB Choir 2: 2xS, 2xA, 2xT, 2xB (8) = min.2 voices per line for divisi (SSAATTBB)* (stage right side) +
3. Gallery/Distant Soloists 1: 1xS + 1xA (2) (SA) (at a distance or in a gallery, and set antiphonally to:)
4. Gallery/Distant Soloists 2: 1xS + 1xA (2) (SA) (at a distance or in a gallery)
The solo parts may be doubled, if necessary.
= 1. SSAATTBB + 2. SSAATTBB + 3. SA + 4. SA; or a minimum of 20 singers: 6 sopranos; 6 altos; 4 tenors, 4 basses
(* But ideally at least double these forces: 16 per choir, or 32 for the two choirs + 4 solo parts [also doubled] = 40 singers).
This Gloria is a companion piece to the previous Kyrie, Op.5 – both of which are part of a large-scale mass setting (as yet uncompleted) – and its main section is founded on related material. As with all other works, while sometimes archaic sounding, the materials are entirely original, though here with the one exception of the incorporation of a very short sequence of chords, heard at the commencement of the final "Amen" section. These chords derive from an anonymous 14th-century three-part setting of Ave maris stella ("Hail, Star of the Sea") – a Vespers hymn to the Virgin Mary, itself based on a chant harking back at least to the 9th century.
Gloria in excelsis Deo.
Et in terra pax
hominibus bonæ voluntatis.
Laudamus te; benedicimus te;
adoramus te; glorificamus te.
Gratias agimus tibi
propter magnam gloriam tuam.
Domine Deus, Rex coelestis,
Deus Pater omnipotens.
Domine Fili unigenite Jesu Christe.
Domine Deus, Agnus Dei,
Filius Patris.
Qui tollis peccata mundi,
miserere nobis.
Qui tollis peccata mundi,
suscipe deprecationem nostram.
Qui sedes ad dextram Patris,
O miserere nobis.
Quoniam tu solus Sanctus,
tu solus Dominus,
tu solus Altissimus, Jesu Christe.
Cum Sancto Spiritu
in gloria Dei Patris.
Amen.
(DURATION: ca.10 to 11+ minutes)
First recorded in January 2017, in Futura Studios, Boston, USA, by Vox Futura, directed by Dr. Andrew Shenton.
[Part of a large-scale, contemporary, "Polychoral Music Composition and Recording Project"]
ISMN PENDING. ASCAP/MCPS Registered.
| | |
| --- | --- |
| Item Type: | Compositions |
| Additional Information: | AWARDS: * Australian Government / Australia Council for the Arts: "Individual International Arts Project Award" (UK, US, Australia) 2015-17 Several of the works in this project collection feature intricate, a cappella, polychoral-inspired techniques. These include multi-part, multi-divisi, and unusual spatial effects (or cori spezzati – literally "split choirs" – as the technique was referred to in the Renaissance and early Baroque periods). Therefore different sections of the choir, or different "sub-choirs" and/or vocal soloists, are sometimes placed in various arrangements around and above the audience: this ancient technique being pioneered in modern form in "Kyrie", Op.5, for 21 individual vocal lines – where some singers are stationed in a gallery, and at a distance. Some works also feature echo effects, as well as isorhythmic fragments, melodic and rhythmic hocket, while cross-rhythms and cross-textuality may additionally be involved. Due to the incorporation of such "polychoral"-derived techniques (in addition to some derived from Medieval music), a striking extra dimension is added both to recordings and to live performances (where the aural "spatial" interest creates a quasi-theatrical effect). The harmonic language is largely built on the composer's personalised modal foundations, frequently complemented by very subtle use of rhythm and ornament, which can sometimes involve quite elaborate – but always delicate – "filigree"-like patterns. |
| Uncontrolled Keywords: | Gloria, Kyrie, Missa Temporis Perditi, double choir, choral, a cappella, a capella, polychoral, cori spezzati |
| Subjects: | M Music and Books on Music > M Music |
| Divisions: | Academic Areas > Conservatoire |
| Media of Output: | Print Music |
| Composition Type: | Choral: a cappella SATB Double Choir, with 2 x SA Soloists |
| Related URLs: | |
| Depositing User: | Jonathan Little |
| Date Deposited: | 10 Jan 2017 11:24 |
| Last Modified: | 18 Mar 2021 09:53 |
| URI: | https://eprints.chi.ac.uk/id/eprint/2265 |
Actions (login required)