Little, J. D. (2007) Themes on a Variation, Op.3. [Compositions]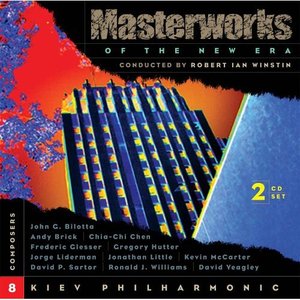 Preview
Image (ERM "Masterworks", Vol.8 cover)




ERM Vol.8 Cover.jpg

- Cover Image
Available under License Creative Commons Attribution.
Download (75kB) | Preview
Abstract
This work derives most of its melodic and motivic material from the notes G, B flat, C, D and E flat – to which the timpani are tuned. This enables the timpani to participate in much of the melodic material that emerges from the given notes.
The most prominent theme to emerge can best be heard on the two solo glockenspiels – this theme itself being a variation of the old English carol, "This is the truth sent from above".
The work is scored for 2 trumpets, horn, euphonium, trombone, tuba (in C), timpani and 2 percussion (9 players in total). Separate transposing parts are available for each of the instruments.
Duration: ca.14 mins.
ISMN M720060101. ASCAP/MCPS Registered.
Actions (login required)