Terpsichore, Op.7: "The Whirler", or Muse of Dance (from "The Nine Muses" - No.7 of 9)
Little, J. D. (2006) Terpsichore, Op.7: "The Whirler", or Muse of Dance (from "The Nine Muses" - No.7 of 9). [Compositions]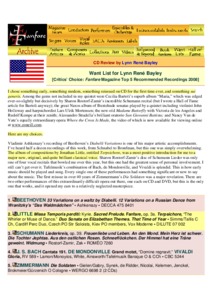 Preview
Text (Fanfare "Want List" Review 2008)




+++Fanfare Magazine - Want List Dec 2008 - J. Little.pdf

- Supplemental Material
Available under License Creative Commons Attribution.
Download (151kB) | Preview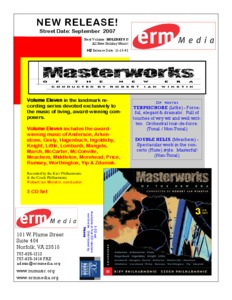 Preview
Image (ERM "Masterworks" Radio Press Sheet)




Vol.11-TERPSICHORE-RadioPressSheetMW11tearcheet3.pdf

- Cover Image
Available under License Creative Commons Attribution.
Download (164kB) | Preview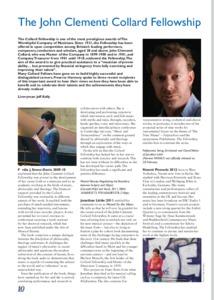 Preview
Text (Summary of Collard Fellowship ("Nine Muses") Project)




PreserveHarmony44(Spring2012)p.10(CollardFellowship).pdf

- Supplemental Material
Available under License Creative Commons Attribution.
Download (86kB) | Preview
Abstract
Being one in a series of intense and ethereal or (as here) kaleidoscopically vibrant and sparkling symphonic portraits of the nine muses, Terpsichore (a showpiece for large orchestra) is itself divided into nine dance scenes:
1. The precocious Muse begins her wild, whirling dance
2. Entrancing Terpsichore dazzles all those who behold her
3. A most majestic and dramatic solo performer
4. The beguiling Muse slows and strikes a pose
5. Her frenzied dance resumes
6. The Muse displays her hypnotic, swaying gracefulness
7. She pauses one last time
8. Her recollection of past glories, and homage to the ancient circular dances
9. The capricious Terpsichore's Finale!
Duration is ca. 14'30"
A Note on Dissemination: The recording featuring this work was officially released on 7th January 2008. (See Amazon.com: http://www.amazon.com/Terpsichore-Other-Jonathan-Little-Composer/dp/B0018O3MMA/ref=sr_1_1?ie=UTF8&qid=1378159518&sr=8-1&keywords=%22jonathan+little%22+%3D+terpsichore) Terpsichore was later re-released on the album POLYHYMNIA in 2011, and then on the "Digital Only" classical compilation album, FINE MUSIC, VOL. 4, on Navona (USA) NV5916, with a release date of 7th May, 2013 (distributed by Amazon, iTunes, ClassicsOnline, Spotify and Naxos Music Library).
COMMENTARY
Terpsichore explores the concept of how one might construct a vibrant and colourful latter-day orchestral "showpiece" (in the same spirit as works such as Chabrier's España) yet here by drawing together an incredibly diverse array of musical influences that would sit quite comfortably within a modern plural society and worldview, all set within a dance-inspired framework (containing nine programmatic episodes – as described above).1
Thus, the work is intended (as reviewers did in fact respond to it) as orchestral tour-de-force consisting of a set of "aural pictures" that aim to maximise variety of orchestral colour and mood, ultimately rising to ecstatic frenzy by its conclusion.2 Rhythm – just as much as texture and orchestration – is a key element in this dance-based piece, and indeed it treats the percussion section in a democratic way as a full and equal partner with all other sections of the orchestra. (The string section does not in this work, therefore, occupy the pre-eminent position that it does in many 19th-century works, for instance – where the strings tend to play a good proportion of the time).
Terpsichore indeed was the work that launched the composer's series of epic orchestral tone pictures inspired by the "Nine Muses" of Greek myth, and was the first work where critics began to pick up on its subtle use of newer types of minimalism blended with elements of the British pastoral tradition, as well as the fact that it conveyed a sense of orchestral brilliance and "ecstasy" at climactic points. Terpsichore set out to capture a great array of moods, all in a relatively short time frame, while also referencing other musics and challenging players and listeners alike with its various performance and aural demands – yet in a wry, spirited, quirky, accessible and enjoyable way. 3
NOTES:
1. Typical of the comments of several reviewers, Simon Thomas drew attention to the "whirling kaleidoscope of sounds … ending on something like the succulent grandeur of a Respighi tone poem. … An extraordinary range of sensations." (Music OMH, Nov. 2008). And of its dance inspiration, Tempo concluded: "[Terpsichore unleashes] a positively dynamic musical palette, portraying the wild behaviour and dancing of Terpsichore in an astonishingly hypnotic range of musical sketches … moving the listener irrevocably onward to a brightly illuminated plain of poetic splendour, rhythm and ecstasy. Could this be a 21st-century version of Maurice Ravel's choreographic symphony, Daphnis et Chloe?" See: Tempo, Vol. 62, Issue 243 (Jan. 2008), Cambridge University Press.
2. Tempo (January 2008) further described Terpsichore as a "ground-breaking tour de force … incandescent", while, in America, Fanfare magazine (May-June 2008) admired its "music of tremendous power … [and] astonishing range of colors and moods". By December, this debut album was being featured in Fanfare Magazine's "Want List 2008" as one of the top worldwide recordings of the year, showcasing what it called "a major new, original and quite brilliant classical voice".
3. Australia's Music Forum several times paid particular attention to the composer's "finely honed" crafting and "command of orchestration … lush and at ease with the tropes of modernist tonal music" (see the issues of Feb-April 2009, and May-July 2009), and the UK's Music and Vision (25th September, 2012) likewise spoke of the work's "dazzling displays".
RECORDING supported by the Kenneth Leighton Trust (UK) and the Foundation for New Music (USA).
FIRST PERFORMANCE SCORE reproduced with the aid of a grant from the Society for the Promotion of New Music's "Francis Chagrin Fund" (UK).
ISMN M720072234. ASCAP/MCPS Registered.
| | |
| --- | --- |
| Item Type: | Compositions |
| Additional Information: | AWARDS: * Included on Terpsichore and Other Works: A Record of the Year in Fanfare magazine (USA) ("Want List 2008") * Reissued on Polyhymnia: "Album des Mes en RNA (Febrero 2012)" (Album of the Month in Reviews New Age, February 2012); Nomination for 'Mejor Álbum RNA de Año' (Best Album of the Year) (Spain) * Collard Fellowship of The Worshipful Company of Musicians 2011 (UK) * PRS for Music Foundation / Bliss Trust Composer Bursary 2012 (UK) MAJOR REVIEWS: Fanfare (USA), Vol.31: No.5 (May–June 2008), pp.179-180, and "The Want List 2008", in Fanfare (USA), Vol. 32: No.2 (Nov-Dec 2008), p.77. Tempo (UK), Vol.62: No.243 (Jan. 2008), pp.88-89. Selected International Music Reviews: Bailey, Lynn Rene, 'Little, Jonathan: Terpsichore and Other Works' [CD Review] in "Fanfare" (USA), Vol.31: No.5 (May-June 2008), pp.179-180. ISSN 0148-9364 – "Particularly here and in the next piece, Little's music sounds like no one else's. Not anyone's. He contrasts large and small forces, rhythmic and melodic fragments, in a manner consistently contrary to both academic formula and 'expected' musical patterns. What sounds like the start of a development, for instance, rapidly fragments into shards of sound that float into space. What sounds incoherent and disconnected coalesces into a development section. Too much to say and too little space to say it; but why bother anyway? This is an aural experience, and to put it into words degrades the astonishing range of colors and moods he creates." Bailey, Lynn Rene, 'The Want List 2008', in "Fanfare" (USA), Vol.32: No.2 (Nov-Dec 2008), p.77 – "a major new, original and quite brilliant classical voice". Clavijo, Alejandro, 'Jonathan Little: Polyhymnia' [CD Review], in "Reviews New Age" (Spain) (February, 2012) [5/5 STARS: ALBUM OF THE MONTH; NOMINATED FOR BEST ALBUM OF THE YEAR] – "From the same suite that opened the album, The Nine Muses, next comes "Terpsichore: 'The Whirler' or Muse of Dance, Op. 7" – one of the masterpieces of Polyhymnia, recorded with the Kiev Philharmonic Orchestra. The strings play incredible counterpoints against a tremendous battery of percussion. The beauty of this piece resides in the ease with which it slides in and out of different moods, in short fragments, sometimes fast, sometimes tense, sometimes sweet and tender – to convey an overall dynamic splendour!" Focosi, Filippo, 'Jonathan Little "Polyhymnia" ' [CD Review], in "Kathodik" (16th April, 2012) (Italy) – "bursting through the panorama he paints with sudden flashes of light or menacing thunderbolts, and so projects the past into the future." Wheatley, John, 'Jonathan Little: Terpsichore and other Works' [CD Review], in "Tempo" (UK), Vol.62: No.243 (Jan. 2008), pp.88-89 – "All this innovative music leads us inevitably to Jonathan Little's ground-breaking tour de force – Terpsichore: 'The Whirler' or Muse of Dance – an incandescent Dance Poem for large orchestra, being the first of a series of symphonic portraits of the muses, the nine daughters of Zeus and Mnemosyne. Here, he has without doubt unleashed a positively dynamic musical palette, powerfully portraying the wild behaviour and dancing of Terpsichore in an astonishingly hypnotic range of musical sketches, where almost Messiaen-like bird-song and swaying elegance is contrasted against some incessantly energetic rhythmic frenzy and orchestral invention, moving the listener irrevocably onward to a brightly illuminated plain of poetic splendour, rhythm and ecstasy. Could this perhaps be a 21st-century version of Maurice Ravel's choreographic symphony, Daphnis et Chloe?" |
| Uncontrolled Keywords: | Terpsichore, The Whirler, Muse of Dance, Nine Muses, Orchestral Showpiece |
| Subjects: | M Music and Books on Music > M Music |
| Divisions: | Academic Areas > Conservatoire |
| Media of Output: | Print Music |
| Composition Type: | Full Orchestra |
| Related URLs: | |
| Depositing User: | Jonathan Little |
| Date Deposited: | 23 Dec 2016 11:31 |
| Last Modified: | 22 Aug 2017 11:20 |
| URI: | https://eprints.chi.ac.uk/id/eprint/2260 |
Actions (login required)