Little, J. D. (2006) Sacred Prelude, Op.1 [String Quintet version]. [Compositions]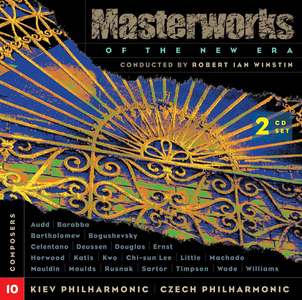 Preview
Image (ERM "Masterworks", Vol.10 cover)




ERM Vol.10 Cover+.jpg

- Cover Image
Available under License Creative Commons Attribution.
Download (220kB) | Preview
Abstract
A natural rubato is felt throughout this haunting, single-movement, chamber work for string quintet. Its much darker than usual instrumentation sees two violas and two cellos set against only one violin (which sometimes, like a single voice, soars high above the texture). The sound is reminiscent of that of ancient church music. Written in the stile antico, it opens with a "Plainsong", then comes the main central "Anthem". There is a brief reprise of the opening theme, before the work closes with a more emphatic "Fantasia" (where the sense of rubato becomes almost improvisatory). The work, as a whole, may be said to comprise a poignant "prayer" for strings.
Ideal duration is ca. 11 mins.
ISMN M720060255. ASCAP/MCPS Registered.
| | |
| --- | --- |
| Publication Type: | Compositions |
| Additional Information: | AWARDS: * Included on Terpsichore and Other Works: A Record of the Year in Fanfare magazine (USA) ("Want List 2008") * Reissued on Polyhymnia: "Album des Mes en RNA (Febrero 2012)" (Album of the Month in Reviews New Age, February 2012); Nomination for 'Mejor Álbum RNA de Año' (Best Album of the Year) (Spain) * Collard Fellowship of The Worshipful Company of Musicians 2011 (UK) * PRS for Music Foundation / Bliss Trust Composer Bursary 2012 (UK) MAJOR REVIEWS: Fanfare (USA), Vol.36: No.1 (Sept-Oct 2012), pp.58-72 - Feature article (includes extensive interview with Martin Anderson, and reviews by Anderson, Canfield and Nockin), and Fanfare (USA), Vol.36: No.2 (Nov-Dec 2012) Selected International Music Reviews: Wheatley, John, 'Jonathan Little: Terpsichore and other Works' [CD Review], in "Tempo" (UK), Vol.62: No.243 (Jan. 2008), pp.88-89 – "developing a distinctly English pastoral flavour, with strong reflections of the harmony and soothing dignity of E. J Moeran and Vaughan Williams … intensely ethereal" Byelick, Ira, 'Little: Polyhymnia ...' [CD Review] in American Record Guide (May/June 2012) – "a beautiful serenade for string quintet [that] stands out with its sincerity" Bailey, Lynn Rene, 'Little, Jonathan: Terpsichore and Other Works' [CD Review] in "Fanfare" (USA), Vol.31: No.5 (May-June 2008), pp.179-180. ISSN 0148-9364 – "music of tremendous power". Bailey, Lynn Rene, 'The Want List 2008', in "Fanfare" (USA), Vol.32: No.2 (Nov-Dec 2008), p.77 – "a major new, original and quite brilliant classical voice". Clavijo, Alejandro, 'Jonathan Little: Polyhymnia' [CD Review], in "Reviews New Age" (Spain) (February, 2012) [5/5 STARS: ALBUM OF THE MONTH; NOMINATED FOR BEST ALBUM OF THE YEAR] – " 'Sacred Prelude, Op.1' is another masterpiece of the album. Beautiful, exciting, thrilling and remarkable in every sense, this piece is an elegant gift to the ears. There are no words to describe this work …" |
| Uncontrolled Keywords: | string quintet, anthem, plainsong, fantasia, prayer |
| Subjects: | M Music and Books on Music > M Music |
| Divisions: | Academic Areas > Conservatoire |
| Media of Output: | Print Music |
| Composition Type: | String Quintet (Vln, 2xVla, 2xVc) |
| Related URLs: | |
| Depositing User: | Jonathan Little |
| Date Deposited: | 23 Dec 2016 11:08 |
| Last Modified: | 22 Aug 2017 11:19 |
| URI: | https://eprints.chi.ac.uk/id/eprint/2257 |
Actions (login required)