Little, J. D. (2016) The Materials and Mechanics of Music Composition. In: CNU Contemporary Music Festival 2016, 28-30 Mar 2016, Ferguson Center for the Arts, Virginia, USA. (Unpublished)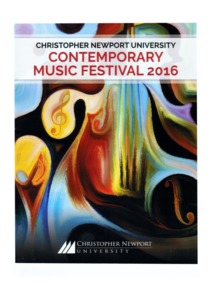 Preview
Text (CNU Contemporary Music Festival 2016 Programme excerpts. Excerpts by kind permission of CNU Music Dept.)




CNU Programme Highlights.pdf

- Supplemental Material
Available under License Creative Commons Attribution.
Download (2MB) | Preview

Slideshow (The Materials and Mechanics of Music Composition)




LECTURE 2 - Dr. J. D. Little POWERPOINT.pptx

- Presentation
Restricted to Registered users only
Available under License Creative Commons Attribution.
Download (14MB) | Request a copy
Abstract
Exploring the materials and mechanics of music composition (including business and career aspects).
Public Lecture 2 of 2, in this "CONVERSATIONS WITH A COMPOSER" series, given in Ferguson Room A183, as "Featured Composer", CNU New Music Festival, Ferguson Center for the Arts, Virginia, USA.
Previous "Featured Composers" "have included George Crumb, Nigel Clarke, Martin Ellerby, John Maxwell Geddes, Samuel Adler, Eric Ewazen, Don Freund, and more".
Actions (login required)